A Diary of Everlasting Words
by The Baylatrix
Released
June 12, 2013
Recorded
April-May 2013
Genre
Classical, New Age
Length
4:22
Label
Logan Sherrill
The Baylatrix chronology
"
A Diary of Everlasting Words
" is the third single from the multi-genre instrumentalist,
The Baylatrix
. It was released on June 12, 2013. The song is also available on The Baylatrix's EP,
Randomize
.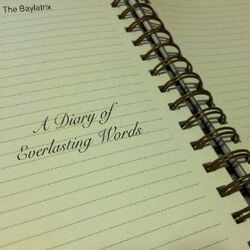 The song is dedicated to Anne Frank and her diary according to The Baylatrix, hense the reason it being released on Frank's birthday, June 12. The entire song is a solo harp, and has a repeating chorus throughout the song.
Track listing
Edit
"A Diary of Everlasting Words"
Further Reading
Edit
"A Diary of Everlasting Words" on iTunes
Ad blocker interference detected!
Wikia is a free-to-use site that makes money from advertising. We have a modified experience for viewers using ad blockers

Wikia is not accessible if you've made further modifications. Remove the custom ad blocker rule(s) and the page will load as expected.