Ad blocker interference detected!
Wikia is a free-to-use site that makes money from advertising. We have a modified experience for viewers using ad blockers

Wikia is not accessible if you've made further modifications. Remove the custom ad blocker rule(s) and the page will load as expected.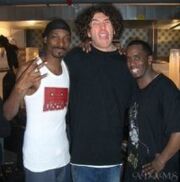 Ajs Nigrutin (born Vladan Aksentijević, Serbian Cyrillic: Владан Аксентијевић, on August 12, 1977 in Belgrade, Serbia, SFR Yugoslavia) is a Serbian rapper.
Also known under a variety of aliases including Ajzak, Čavo Ledeni, Savo teleci, Lazo medvedji, Aksentije, Svez Nigrutin, Spejs Nigrutin, Najs Nizbutin, Has MC, Lepi Čavo, Ajzaklija Stomaklija, etc., he is best known for being a member of the hip-hop trio Bad Copy, but also for his solo work. Standing over two meters in height, he used to be an aspiring basketball player. His role model is Redman and he lives in the Belgrade suburb of Kotež. Before devoting to music full-time, he worked as a sound man at Radio SKC for 4 years. He was a member of Big Brother crew in Serbia in 2008.
Nigrutinski Receno (2002)
Strokav Pazuh (2005)
Kajmak i Katran (2008)
With Bad Copy:
Edit
Orbod Mebej (1996)
Sve Sami Hedovi (2003)
Najgori Do Sada (2006)
Krigle (2013)
With 43Zla:
Edit
With Bvana:
Edit
With Mononukleozni Rodjaci 
Edit
Price Iz Hibernacije (2011)
Other Songs:
Edit
Shaka Jada
Nadri Psihijatar 
Rap Totaleeee
Osekni se (Vers)
Kriza 
Bentli Lalalala
Carape Da Vetrimo
Droga U Heroinu
Pajp
Reper Praviii
Seljacki Geto
Sin Od Pileta
Svi Nigrutini
U 15 od 8
Bolje da Prepoznas
Paket Trave
Parking Servis 
Njiva 
Maj Inglish (Vers)
Krivi Rastaman,Bitcharke,Timbe - Kako je Pijana 
Feat. Blind Business - Kapela
Feat. Blind Business - Kinezi tra
Feat. Blind Business - Ko Se Usro ?
Feat. Eufrat, Blind Busness - Valjamo Travu 
Feat. Eufrat - Dinkicu Care
Feat. Timbe - Mercedes i BMW
Feat. Timbe - Mrtvo mace
Feat. Timbe - Fantaziram Kojesta
Feat. Seven - Liricki Zub
Feat. Tokyo - Ja Sam Samo Mleo
Feat. Deda - Kakav ce mo Refren
Feat. Borshch - U Kabrioletu 
Freestyle:
Edit
Oni misle da mi je lako
Al ne valja mi bit
Godine nasih radosti
Izvinite sto vas ometam
Karleusa ma niga
Kuliranje na plazi
Lazno sam se predstavio
Pravim novi dens
Usi zuje kad se cuje