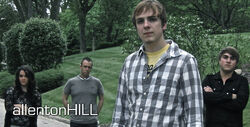 allentonHILL (2010 - present) is an unsigned Christian Second Wave Synthpop band created in Dayton, Ohio, USA, as a side-project. Its members were originally part of another group called afterLOVE that is a Christian Ministry. allentonHILL was formed when they realized they wanted to make "secular music". As of July, 2010, the band has released only one single called "Fireworks", which they recorded unprofessionally with StudioPros, and is currently working on another song titled "Unmistakably". They are planning on releasing a live worship album at the Five Rivers Vineyard called "Ignite Our Hearts."
Chris Allen (Vocals; Keyboard; Acoustics)
Brad Ackerman (Drummer)
Kristin Allen (Vocals)
Tim Allen (Lead Guitar; Vocals)
Discography
Edit
Further Reading
Edit
Ad blocker interference detected!
Wikia is a free-to-use site that makes money from advertising. We have a modified experience for viewers using ad blockers

Wikia is not accessible if you've made further modifications. Remove the custom ad blocker rule(s) and the page will load as expected.