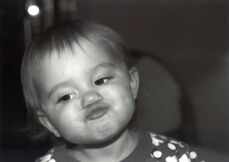 Ariana Grande-Butera
[1]
[2]
(born June 26, 1993),
[3]
[4]
known professionally as
Ariana Grande
, is an American recording artist and actress. She grew up in
Boca Raton, Florida
, where she attended
North
Broward Preparatory School. Grande made her acting debut in 2008, playing the role of Charlotte in 13 on Broadway. From 2010 to 2013, she played Cat Valentine on the Nickelodeon sitcom Victorious and reprised the role on the spinoff Sam & Cat (2013–14).
In March 2013, Grande reached mainstream success after "The Way" from her debut studio album, Yours Truly (2013), became a top ten hit on the Billboard Hot 100 and was certified double platinum by the RIAA.[5][6] The album received critical acclaim and debuted at number one on the Billboard 200. This made Grande the first female artist to have her debut record enter the chart in the pole position since Animal by Kesha in January 2010, and the fifteenth female artist overall.[7][8] Later, Grande was honored by The Music Business Association in 2014 as Breakthrough Artist of the Year, to recognize Grande's achievements over 2013.[9]
Life and career
Edit
1993–2008: Early life and career beginnings
Edit
Ariana Grande-Butera was born in Boca Raton, Florida,[10][11] to Joan Grande, chief executive officer of telephone and alarm system company Hose-McCann Communications,[12][13] and Edward Butera, who owns a graphic design firm in Boca Raton.[11][14] Her name was originally inspired by Princess Oriana from Felix the Cat (1959).[15] Grande is of Italian descent, half Sicilian and half Abruzzese.[16] She has experienced hypoglycemia.[17] She has an older half-brother, Frankie Grande, who is an actor, dancer, and producer.[18] Grande's mother moved with her father from New York to Florida when she was pregnant with her. She has stated that her parents separated when she was around 8 or 9 years old.[14]
As a child, Grande performed with the Fort Lauderdale Children's Theater,[19] playing her first role as Annie, as well as performing in the musicals The Wizard of Oz and Beauty and the Beast.[20] At the age of 8, she performed at a karaoke lounge on a cruise ship, in various orchestras such as South Florida's Philharmonic, Florida Sunshine Pops and Symphonic Orchestras, and made her national television debut singing "The Star-Spangled Banner" for the Florida Panthers.[21] She attended Pine Crest School and North Broward Preparatory School.[22][23]
By age 13, she became serious about pursuing a music career, though she still concentrated on theater.[24] When she first arrived in Los Angeles to meet with her managers, she expressed a desire to record an R&B album when she was 14: "I was like, 'I want to make an R&B album,' They were like 'Um, that's a helluva goal! Who is going to buy a 14-year-old's R&B album?!'"[14] In 2008, Grande was cast in the supporting role of cheerleader Charlotte in the musical 13 on Broadway,[25] for which she won a National Youth Theatre Association Award.[26] When she joined the musical, Grande left her high school, North Broward Preparatory School, but continued to be enrolled. The school sent materials to her so she could study with tutors.[23][27] She also sang various times at the New York City Jazz club Birdland.[3]
Studio versions of the songs from the musical 13 were later released which included "Brand New You" and "A Little More Homework".
2009–12: Breakthrough with Nickelodeon
Edit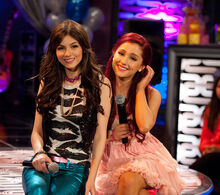 Grande auditioned for the Nickelodeon television show Victorious in New York along with 13 co-star Elizabeth Gillies in 2009.[28] In this sitcom set in a performing arts high school, Grande was cast as Cat Valentine.[28] Grande had to dye her hair red every other week for the role because the executive producer, Dan Schneider, did not want all cast members to be brunettes, and the red hair was also a feature that the network felt would fit the personality of Cat.[29] The show began filming in October 2009 and premiered on March 27, 2010 to the second largest audience for a live-action series in Nickelodeon history with 5.7 million viewers.[30][31] The role helped propel Grande to teen idol status, but she was more interested in a music career stating that acting is "fun, but music has always been first and foremost with me."[32] Her character was compared to "Brittany Murphy's performance as the hapless Tai in Clueless" (1995) and described as being "very impressionable and easily swayed" but "generally sweet."[33] Season two premiered on April 2, 2011 to 6.2 million viewers, becoming the highest rated episode of Victorious.[34] In 2010, she played the role of Miriam in the musical Cuba Libre, which was written and produced by songwriter Desmond Child.[23]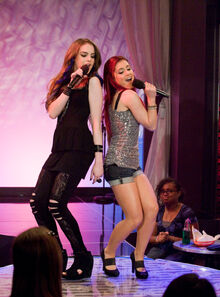 After the first season of Victorious wrapped, Grande wanted to focus on her music career and began working on her debut album in August 2010.[35] To strengthen her vocal range, she began working with vocal coach Eric Vetro.[36] She made her first musical appearance on the track "Give It Up" on the soundtrack Victorious: Music from the Hit TV Show in August 2011. While filming Victorious, Grande made several recordings of herself singing covers of songs by Adele, Whitney Houston and Mariah Carey, and she uploaded them to YouTube.[37] A friend of Monte Lipman, CEO of Republic Records, came across one of Grande's videos. Impressed by her vocals, he sent the links to Lipman, who signed her to a recording contract.[14] She released her first single, "Put Your Hearts Up", in December 2011, which was cut during sessions for a teen-oriented pop album that was held up by numerous delays.[38] She later disowned the track for its bubblegum pop sound, saying that she had no interest in recording music of that genre.[38] The song was later certified gold by the RIAA.[39] Also in 2011, she voiced the fairy, Princess Diaspro, in 13 episodes of the Nickelodeon animated television series Winx Club and appeared in Greyson Chance's music video for a song called "Unfriend You" from his album Hold On 'til the Night, portraying Chance's ex-girlfriend.[40]
A second soundtrack, Victorious 2.0, was released on June 5, 2012 as an extended play, featuring Grande in the song "Don't You (Forget About Me)".[41] After three seasons, Victorious was not renewed.[42] The final season premiered in September 2012, and the finale aired in February 2013. The third and final Victorious soundtrack, Victorious 3.0, was released on November 6, 2012, featuring Grande in the song "L.A. Boyz".[43] The music video for "L.A. Boyz" features Grande and Victoria Justice performing in front of their cast mates during an episode of Victorious.[44] In December 2012, Grande collaborated on the single version of "Popular Song", a duet with British singer and songwriter Mika.[45] She also starred over the holiday season as Snow White in a pantomime-style musical theatre production called A Snow White Christmas, together with Charlene Tilton and Neil Patrick Harris, at the Pasadena Playhouse.[46]
Meanwhile, Nickelodeon created an iCarly and Victorious spin-off starring Jennette McCurdy and Grande.[47] The buddy sitcom, titled Sam & Cat, paired Grande and McCurdy as roommates who form an after-school babysitting business, reprising their respective roles as Cat Valentine from Victorious and Sam Puckett from iCarly.[48] The pilot aired on June 8, 2013, and the show was immediately picked up by the network.[49] The following month, Nickelodeon doubled Sam & Cat's original twenty-episode order for season one, making it a forty-episode season.[50] Despite its success in the ratings, the series was canceled.[51] The final episode aired on July 17, 2014.[52]
2013–14: Yours Truly and My EverythingEdit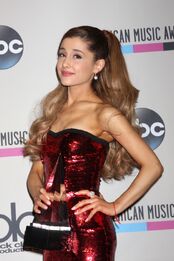 Grande recorded her debut album, Yours Truly, over a three-year period.[53] She completed the album, originally titled Daydreamin', in June 2013; it was released on August 30, 2013.[53] She is credited as a songwriter on several tracks of the album.[54] In September 2013, it debuted at No. 1 on the US Billboard 200 albums chart—with 138,000 copies sold in its first week—making Grande the first female artist, since Kesha, to have her first album debut atop of the charts—and the fifteenth female artist overall.[55][56] Yours Truly also debuted in the top ten in several other countries, including Australia at number six,[57] the UK at number seven,[58] Ireland at number six,[59] and the Netherlands at number five.[60] It also debuted on New Zealand's top 40 albums chart at number eleven.[61] By April 2014, the album had sold over 500,000 copies in the United States, making it Grande's first gold album. [62]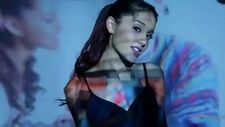 The lead single, "The Way" featuring Pittsburgh rapper Mac Miller, debuted at No. 10 on the US Billboard Hot 100,[63] eventually peaking at No. 9 for two weeks,[64] and spent 26 weeks on the Hot 100.[65] Grande was eventually sued by Minder Music for copying the line, "What we gotta do right here is go back, back in time" from the 1972 song "Troglodyte (Cave Man)" by The Jimmy Castor Bunch.[66] Following the release of the album, Billboard magazine ranked Grande at No. 4 on their list of "Music's Hottest Minors 2013", an annual ranking of the most popular musicians under the age of 21.[67] The second single, "Baby I" debuted at number 21 on the US Billboard Hot 100 chart, making it her second Top 40 hit.[68] The song also debuted at number six on the US Billboard Hot Digital Songs chart, making Grande the only female music artist to debut two songs in the top ten of the Hot Digital Songs chart during the year 2013.[69] The third single, "Right
There
", featuring
Detroit
rapper
Big Sean
,
[70]
[71]
debuted at number 84 on the US
Billboard
Hot 100 chart.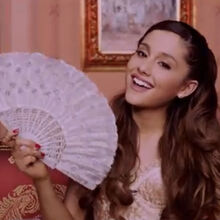 In the 2013 Nickelodeon film
Swindle
, an adaptation of the children's
book of the same name
, Grande played Amanda Benson, along with her
Sam & Cat
co-star, Jennette McCurdy. It premiered on Nickelodeon in August.
[72]
That same month, she lent her vocals on the duet "
Almost Is Never Enough
" with
Nathan Sykes
of the British boy band
The Wanted
. She also joined
Justin Bieber
on his
Believe Tour
for three shows and kicked off her own headlining mini-tour,
The Listening Sessions
.
[73]
[74]
At the 2013
American Music Awards
, she won the award for
New Artist of the Year
.
[75]
[76]
She released a four-song Christmas EP,
Christmas Kisses
in December 2013.
[77]
Christmas Kisses
received critical praise for its "R&B spin" on the Christmas classics.
[78]
By January 2014, Grande had begun recording her second studio album, with singer-songwriter Ryan Tedder and record producers Benny Blanco and Max Martin.[79][80] Grande is also credited as a songwriter on several tracks of the album.[54] The same month, she earned the Favorite Breakout Artist award at the People's Choice Awards 2014.[81] In March 2014, Grande sang at the White House concert, "Women of Soul: In Performance at the White House".[82][83] The following month, President Barack Obama and first lady Michelle Obama invited Grande again to perform at the White House for the Easter Egg Roll event along with collaborator Big Sean.[84] A duet with R&B singer Chris Brown, "Don't Be Gone Too Long", was scheduled for a March 24 release date but was delayed because of Brown's legal problems.[85] Grande received the Breakthrough Artist of the Year award from the Music Business Association, recognizing her achievements throughout 2013, including her No. 1 debut on the Billboard 200 with her first album and her top ten single on the Hot 100.[81]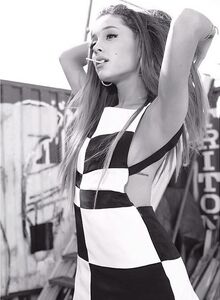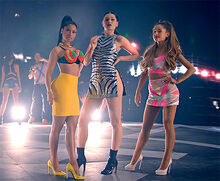 Grande released her second studio album My Everything on August 25, 2014, with Rolling Stone magazine writing that "My Everything is where the 21-year-old Nickelodeon starlet grows up. It's a confident, intelligent, brazen pop statement, mixing bubblegum diva vocals with EDM break beats".[86] It sold 169,000 copies in its first week and debuted atop the Billboard 200, becoming her second consecutive No. 1 album in the US.[87] Its lead single, "Problem", features Australian rapper Iggy Azalea and premiered at the 2014 Radio Disney Music Awards on April 27.[88][89] The song debuted at No. 3 (eventually climbing to No. 2) on the Billboard Hot 100, and debuted at No. 1 on the UK Singles Chart, becoming Grande's first No. 1 single in the United Kingdom.[90] It made British chart history as the first song to land at No. 1 based on sales and streams.[90] The song was noted for being the highest debut ever for a collaboration of female soloists.[91] The second single, "Break Free", featuring German musician and producer Zedd,[92] peaked at No. 4 on the Billboard Hot 100 and No. 1 on the Hot Dance/Electronic Songs.[93] As of January 2016, the futuristic video had been viewed more than 500 million times.[94] She performed the song at the opening of the 2014 MTV Video Music Awards, while winning Best Pop Video for her single "Problem".[95] As of January 2016, that video had been viewed more than 700 million times.[96] She also provided guest vocals on "Bang Bang" with Jessie J and Nicki Minaj, the lead single from Jessie J's third studio album Sweet Talker (2014).[97] The song reached No. 3 in the US, Grande's third song in the Hot 100's top ten the same week ("Problem", "Break Free", and "Bang Bang").[93] It also went to No.1 in the UK. She joined Adele as the only female artist with three top ten hits simultaneously as a lead artist.[93] Billboard's review noted that the album is not kid-friendly, like her earlier efforts, and stated:
[S]he has pulled more sounds into her repertoire while keeping her biggest weapon, a remarkable vocal range, as a steady foundation. ... My Everything is a less cohesive project than Yours Truly, although its best moments eclipse the highs of Grande's 2013 debut. The singles "Problem" and "Break Free" remain dizzying dance tunes, and back-to-back solo songs "One Last Time" and "Why Try" possess the types of flawless melodies that are typically reserved for the world's biggest pop divas. The back half of the album's many collaborations are hit-or-miss.[98]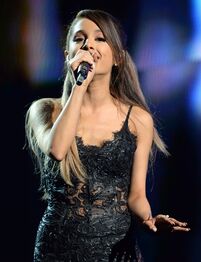 On September 27, 2014, Grande was the musical performer on the season 40 premiere of NBC's Saturday Night Live—with Chris Pratt hosting.[99] Three days later, the third single from My Everything, "Love Me Harder", featuring Canadian recording artist The Weeknd, debuted on the Billboard Hot 100, peaking at number seven.[100] In November 2014, Grande was featured in Major Lazer's song "All My Love" which was released as the fourth single from the soundtrack album for the film The Hunger Games: Mockingjay – Part 1.[101] The same month, Grande released a Christmas song titled "Santa Tell Me".[102] Spending 34 consecutive weeks in the top 10 of the Billboard Hot 100 in 2014,[103] Grande had the most top 10 singles of any artist that year.[104] She later released a fifth single from My Everything, "One Last Time", which peaked at No. 13 on the Billboard Hot 100. By April 2015, the album had sold over 600,000 copies in the US.[105]
2015–2016: Touring, Scream Queens and Dangerous WomanEdit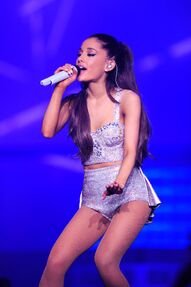 In early 2015, Grande embarked on her extensive The Honeymoon Tour of North America and Europe, with several later stops in Asia and South America.[106] The tour earned $14 million in its first 25 performances, selling 290,699 tickets.[107] Following the tour's early success, more dates were added,[108] and the tour concluded in October 2015 after a total of nearly 90 dates.[109] Reviews of the tour performances generally praised Grande's vocals and ability to convey emotion in the songs but found the concerts to be over-produced: "[S]ome judicious editing would've elevated the evening from surprising to satisfying and possibly even shockingly good. As it is, Grande is so busy piling on the spectacle she neglects to highlight the one thing – those deceptively powerful pipes – setting her apart from her contemporaries."[110] Grande was featured on Cashmere Cat's song "Adore", which was released in March during her Honeymoon Tour, with a review in USA Today saying: "Grande's towering vocals have never sounded better than on this offbeat R&B track."[111]
In September 2015, Grande guest-starred in several episodes of the Fox comedy-horror TV series Scream Queens as Chanel #2,[112][113] She also launched her first fragrance, "Ari by Ariana Grande", that month.[114][115] Grande filmed an episode for the Fox TV reality series Knock Knock Live, but the show was cancelled before her episode aired.[116][117] She appeared as a cameo in the comedy film Zoolander 2, which was released in February 2016,[118] starring Ben Stiller and Owen Wilson.[119]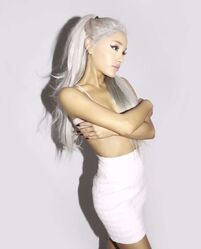 Grande has been working on her third studio album, Dangerous Woman; the album was originally titled Moonlight.[120][121] Grande released the single "Focus", initially intended as the lead single from the album, in October 2015,[122] which debuted at No. 7 on the Hot 100.[123] By March 2016, the official video of the song had been viewed more than 400 million times on YouTube.[124] Also in 2015, she signed an exclusive publishing contract with Universal Music Publishing Group covering her entire catalogue;[125] duetted in Italian with Andrea Bocelli on the track "E Più Ti Penso" from his album Cinema with an accompanying video;[126] covered the song "Zero to Hero", from the film Hercules, in the compilation album We Love Disney;[127] and was featured, with Meghan Trainor, on Who Is Fancy's song "Boys like You".[128] Grande also released her second Christmas EP, titled Christmas & Chill,[129] which debuted at No. 34 on the Billboard 200[130] and No. 3 on Billboard's Holiday Albums chart.[131]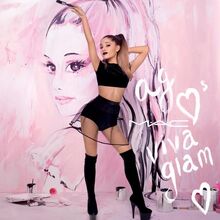 In 2016, Grande collaborated with MAC Cosmetics to debut her makeup collection, donating 100% of proceeds to the MAC AIDS Fund.[132] She also released her second fragrance, "Frankie by Ariana Grande", in collaboration with her brother Frankie Grande,[133] and launched her debut fashion line in collaboration with Lipsy London.[134] On March 10, 2016, Grande released "Dangerous Woman" as the lead single from the upcoming album.[135] The album is expected to be released on May 20, 2016.[136] On March 12, 2016, she appeared as host and musical guest of Saturday Night Live, where she performed the title track of Dangerous Woman and debuted another song from the album, "Be Alright".[137] She garnered positive reviews for her impressions of various singers,[138][139] some of which she had done on her previous guest appearance on The Tonight Show Starring Jimmy Fallon.[140] Jonathon Dornbush of Entertainment Weekly wrote that Grande "not only nailed her musical performances, but also shone as the best part of some of the night's sketches" including a "shockingly good" Jennifer Lawrence impression; "Grande proved she could hold her own amongst the SNL players."[141] On March 18, Grande officially released "Be Alright".[142] Stephanie Webber of Us Weekly called Grande "really, really talented" and praised her "long list of impeccable celebrity impersonations."[143]
By March 2016, Grande's YouTube channel ArianaGrandeVevo had accrued more than 10 million subscribers and was ranked as the 49th most subscribed channel;[144] her music videos had been viewed more than 3 billion times;[145] her Instagram account had accumulated more than 60 million followers,[146] ranking as the 5th most followed Instagram account;[147] her Twitter account had more than 35 million followers,[148] placing it as the 16th most followed Twitter account;[149] and her Facebook page had more than 25 million "likes".[150]
On March 11, 2016, Ariana released "Dangerous Woman", the lead single from her third studio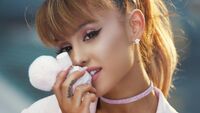 album, Dangerous Woman. On March 18, 2016, "Be Alright" was released as the first promotional single from Dangerous Woman. On April 18, 2016, "Let Me Love You" was released as the second promotional single from Dangerous Woman. On May 6, 2016, "Into You" was released as the second single from Dangerous Woman.
On May 20, 2016, Dangerous Woman was released.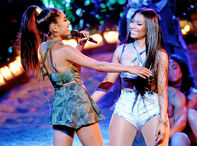 On July 20, 2016, Sweet Like Candy Ariana's second fragrance was released.
On August 30, 2016, "Side to Side", featuring rapper Nicki Minaj, was released as the third single from Dangerous Woman. On September 8, 2016 after her appearance on The Tonight Show with Jimmy Fallon, the dates were for the first leg of tour were announced on Grande's website. Grande began her Dangerous Woman Tour in support of her third studio album, Dangerous Woman, on February 2, 2017.
On September 16, 2016, The Divine Feminine by Mac Miller was released. Ariana is featured on 2 songs off of the album, Congratulations and My Favourite Part.
On November 13, 2016, Ariana announced that she was nearly done with her 4th Studio Album.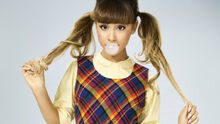 On December 7, 2016, Ariana was apart of the NBC Live Musical Hairspray Live! she played Penny Pingleton and was featured on the Hairspray Live Soundtrack.
On December 20, 2016, Stevie Wonder released the "Faith" music video featuring Ariana, which was part of the Sing! Soundtrack.
2017-present : Dangerous Woman Tour and New Music
Edit
On May 23, 2016, Ariana Grande announced on social media that she would go on tour at the end of 2016 or early 2017 and that fans who ordered her album before May 25 would get a code to purchase tickets before the general sale. On September 9, 2016, Grande released the dates for the first leg of the tour, beginning on February 3, 2017.[2] Ticket pre-sales for the first leg were made from September 20, 2016 to September 23, 2016. General ticket sales began on September 24, 2016. European tour dates were announced on October 20, 2016.[3] The European leg will take place in May and June 2017.[4]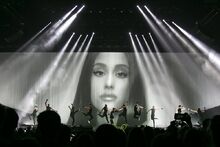 On September 22, 2016, Grande announced on Twitter that Victoria Monét and Little Mix would be joining the tour as opening acts throughout the North American leg of the tour.
[5]
 On September 26, 2016, Grande announced that the tour would visit Australia.
[6]
 On February 27, 2017, Live Nation announced that BIA will be joining the tour as the opening act for the UK dates during the European leg of the tour.
[7]
 On April 3, 2017, Grande announced Latin American tour dates.
[8]
 An additional date was announced on April 19, 2017. On April 24 & 25, 2017, further Latin American tour dates were announced. The Latin American leg will take place in June and July 2017.
[1]
 On April 21, 2017, Grande announced Oceanian tour dates.
[9]
 The Oceanian leg will take place in September 2017.
[1]
 On April 27, 2017, Asian tour dates were announced.
[citation needed]
 The Asian leg will take place in August 2017.
[1]
 On April 25, 2017, it was announced that Grande would perform in Singapore as part of the F1 Grand Prix.
[1]
 On May 1, 2017, an additional Asian date was announced. The second Asian leg will take place in September 2017.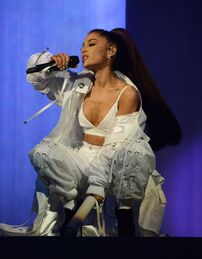 The DW Tour Instagram account was created at the end of October 2016 to document the tour. Rehearsals fully began after the completion of Hairspray Live! in December and throughout January. Ariana worked with Alfredo Flores, Hannah Lux Davis, and Jones Crow to create visuals for the tour.[3][4][5]
Toulouse and Pignoli accompanied Ariana on the tour.
When first leg finished, Ariana post a gratitude on Instagram.[7] One day later, the hashtag "#ThankYouAriana" was trending topic on Twitter.
On January 10, 2017, "Everyday", featuring rapper Future, was released as the fourth single from Dangerous Woman.
On March 5, 2017, "Beauty and The Beast" was released, the song features Ariana Grande and John Legend.
On March 31, 2017, Calvin Harris released "Heatstroke" a song with Young Thug, Pharrell Williams and Ariana Grande. Ariana has also been rumored to be working on collaborations with Diplo, Bia (Esta Noche), Katy Perry, Mac Miller, Major Lazer, Zedd, Nicki Minaj and Jennifer Hudson. As well as her 4th studio Album.
In April, 2017 "Quit" by Cashmere Cat featuring Ariana Grande was released.
Personal life
Edit
In 2008, Grande started dating Graham Phillips. They were in a relationship for three years before they broke up in December 2011.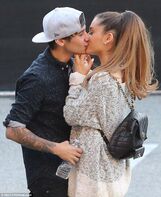 She and her back-up dancer Jordan Viscomi started dating. A few months later, they broke up as well. They dated from December 2011 to mid 2012.
On October 7, 2012, Grande began dating Jai Brooks, a member of the Australian YouTube group "The Janoskians" after meeting through Twitter. They had a long distance relationship until December 2012, when they met for the first time in New York City. However, Ariana and Jai broke up in August 2013 for unknown reasons. Shortly after, Jai accused Ariana of cheating on him.
In September 2013, after weeks of speculation, Ariana and Nathan Sykes from the British boyband "The Wanted" confirmed their relationship on Twitter. In late January 2014, Grande confirmed in a radio interview that she and Sykes had decided to end their approximately five month long relationship, but insisted that they remain close friends.
[7]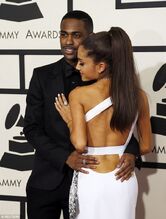 Ariana and her ex-boyfriend Jai Brooks dated again between January 2014 and July 2014. They broke up again after he allegedly was not supportive of Ariana during the death of her grandfather.
In August 2014, Ariana began dating rapper Big Sean, who had been her friend for some time and was with Ariana ​​when her grandfather died. A fan photographed them leaving a movie theater; the fan also claimed that Ariana and Big Sean were kissing during the movie. At the 2014 MTV VMAs they were filmed holding hands after Ariana performed "Bang Bang". On October 13, she publicly confirmed that they were dating. Though in April 2015, it was discovered that the two had broken up. According to Ariana, they had already broken up months before. People speculate that this was due to busy schedules & timings. Other rumors say Big Sean dumped Ariana for dancing and hanging out with her good friend Justin Bieber.On April 5, 2015, Ariana started dating her backup dancer, Ricky Álvarez. The relationship was kept private and secret until a TMZ video leaked of Ariana licking a donut and making out with Ricky. They broke up in July 2016.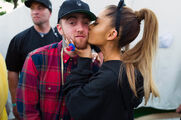 In August 2016, Ariana started dating rapper Mac Miller, who was previously featured in her 2013 hit single "The Way" and on a remix of her 2016 hit single "Into You". She is also on Mac's Miller's new album with the track "My Favorite Part" as a feature.
"I met him when I was 19. We have loved and adored and respected each other since the beginning, since before we even met, just because we were fans of each other's talent," Grande said in the interview. "We weren't ready at all, though, to be together. It's just timing. We both needed to experience some things, but the love has been there the whole time."
Discography
Edit
"Put Your Hearts Up"
"The Way"
"Right There"
"Baby I"
"Snow In California"
"Problem"
"Break Free"
"Bang Bang"
"Santa Tell Me"
"One Last Time"
"Adore"
"Boys Like You"
"Over And Over Again"
"Focus"
"Dangerous Woman"
"Into You"
"Side To Side"
"Faith"
"Beauty And The Beast"
"Everyday"
"Heatstroke"
Promotional Singles Edit
"Almost Is Never Enough"
"Be Alright"
"Let Me Love You"
"Jason's Song (Gave It Away)"
Christmas Kisses
Bang Bang (Remixes)
Love Me Harder EP
The Remix
Christmas & Chill
Side To Side (Remixes)
Filmography
Edit
Television roles
Year
Title
Role
Notes
2009
The Battery's Down
Bat Mitzvah Riffer
Episode: "Bad Bad News"
2010–13
Victorious
Cat Valentine
Main role (56 episodes)
2011
iCarly
Cat Valentine
Episode: "iParty with Victorious"
2011–13
Winx Club
Princess Diaspro (voice)
Recurring role (Specials, seasons 3, 5)
2013
Swindle
Amanda Benson
Nickelodeon Original Movie
2013–14
Sam & Cat
Cat Valentine
Co-lead role (35 episodes)
2014
Family Guy
Italian Daughter (voice)[36]
Episode: "Mom's the Word"
2014
Saturday Night Live
Herself/musical guest
Episode: "Chris Pratt/Ariana Grande"
2015
RuPaul's Drag Race
Herself/guest judge
Episode: "Ru Hollywood Stories"
2015
Knock Knock Live[113]
Herself
Unaired episode
2015
Scream Queens[110]
Sonya Herfmann / Chanel #2
Recurring role, season 1 (4 episodes)
2016
Saturday Night Live
Host and musical guest
Episode: "Ariana Grande"
2016
The Voice
Performer – Duet with Christina Aguilera
Air date: May 26, 2016 (Season 10 finale)
2016
Hairspray Live![261]
Penny Pingleton
Special
2016
The Voice
Performer – Duet of "Faith" with Stevie Wonder
Air date: December 13, 2016 (Season 11 finale)
Film roles

| Year | Title | Role | Notes |
| --- | --- | --- | --- |
| 2011 | Snowflake, the White Gorilla[262] | Snowflake (voice) | English dub |
| 2016 | Underdogs[263] | Laura (voice) | English dub; direct to video |
| 2016 | Zoolander 2 | Woman in bondage outfit[264] | Cameo |
References
Edit
Ad blocker interference detected!
Wikia is a free-to-use site that makes money from advertising. We have a modified experience for viewers using ad blockers

Wikia is not accessible if you've made further modifications. Remove the custom ad blocker rule(s) and the page will load as expected.