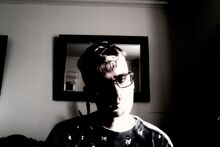 Azrael Belford (born Dakota James Belford on February 1st, 1993) is an American Singer-songwriter, Multi-instrumentalist, Poet, and Artist. He began his recording music in 2009 with a rough demo cover song of "You Are My Sunshine" under the moniker The Infinite Silence. About a year and a half later, he changed that moniker to The Silent Boy and put out his first album, Mother Songs. The latest album from the project, FRAGMENTS, as well as a companion cover song EP, UNREMEMBERED, was released December 23rd, 2015. He is currently working on the sixth album for this project. In 2011, Belford started a second music project, instrumental this time, called Stars & Constellations. He is currently working on his sixth album under this name, Tentatively titled Chapter VI. A few years after this, he put out 10 EPs under the moniker AQVARIVS, which lasted from June 2013-April 2014. He recently announced a new project of songs made from GarageBand loops, called Kaleidanoyse. His music can all be found on Bandcamp.
Ad blocker interference detected!
Wikia is a free-to-use site that makes money from advertising. We have a modified experience for viewers using ad blockers

Wikia is not accessible if you've made further modifications. Remove the custom ad blocker rule(s) and the page will load as expected.