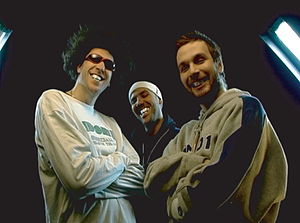 Bad Copy
are a popular hip-hop trio group from Belgrade, Serbia known for their humorous lyrics and slang. The members are
Ajs Nigrutin
(stage name of Vladan Aksentijević), Timbe (Rašid Kurtanović) and Wikluh Sky (Đorđe Miljenović). They have released several albums as a group and as solo artists and helped the popularisation of hip hop music in Serbia and Ex-Yugoslavia in the new millennium.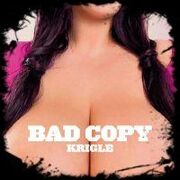 The group started off as a duo consisting of Ajs Nigrutin and Miki Boj (Milan Šaponja). Their first album Orbod mebej, released by ITMM in 1996, mostly contained comical songs rapped over instrumentals from popular American rap acts such as Method Man and Naughty By Nature. The standout track was "Zabaci domaćine", which turned Coolio's Gangsta's Paradise into a song about a fishing trip gone wrong. The album failed to get much media attention, but it established them a cult following.
The death of Miki Boj in a war in Kosovo in 1999 resulted in a hiatus that lasted a few years. The group was then composed of Ajs Nigrutin and Timjah, with Wikluh Sky joining later. Songs recorded in that period showed major improvement over their early efforts, developing their rapping skills drastically while still keeping trademark irreverent lyrics. They joined forces with Oneya, then an up-and-coming beatmaker who was working on starting the first Serbian hip-hop label, Bassivity. They had a very prolific collaboration, recording lots of songs but none of them ever getting released. By the end of 2002, dissatisfied with initially agreed schedule of their album being released only after V.I.P., Oneya and Shorty even though they weren't the first ones with a fully recorded album, they wanted to end their contract with Bassivity. Eventually they were dropped with no penalties by the label. Many of the recorded songs were later leaked to the internet, while almost none were released on other Bassivity projects.
Orbod Mebej (1996)
Sve sami hedovi (2003)
Najgori do sada (2006)
Krigle (2013)
Ad blocker interference detected!
Wikia is a free-to-use site that makes money from advertising. We have a modified experience for viewers using ad blockers

Wikia is not accessible if you've made further modifications. Remove the custom ad blocker rule(s) and the page will load as expected.