Lorin Ashton, also known as "Bassnectar", is a San Francisco-based DJ, producer, and musical artist. His blending of crystal clear treble and chest thumping bass brings the perfect combination of music synthesis. Originally starting as a death metal artist, his background and past music experience has strongly influenced his spectrum and mindset for bass music. At the young age of 18 years old, Lorin attended his first rave-styled music show and on that day, he switched over to electronic dance music.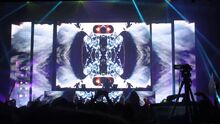 As Lorin progressed through college, he crafted his vision on a few aspects: the kind of performance he wanted to deliver, the message he wanted his songs to represent, and the meaning behind what he does. Eventually, by the early 2000's, Lorin fully evolved into the persona "Bassnectar" and started playing at music festivals such as Burning Man and Shambala. From then on, Bassnectar's performances have been undoubtedly sought after for their kaleidoscope-styled live visuals with intense colors and vibrations. Being at one of his shows in a dome venue with over 150,000 watts of amplification will most certainly leave you with goosebumps.
Bassnectar is known as one of the biggest and longest standing electronic dance music artists in the game at this current point in time. His promotion of bass is beyond comparable in regards to other artists and his signature look is also unforgettable. The view of Lorin's long, black-haired head banging up and down behind the DJ decks is a definitely a sight to see. Bassnectar has undoubtedly changed the music game immensely with his use of intense baselines and hypnotic soundscapes. Lorin offers a variety of styles in his music ranging from hard style bass such as "Wildstyle Method" to his hypnotic, mesmerizing side such as "Falling".
Bassnectar's greatest feat, aside from all the fame, music, and talent, is that he is a very kind, caring, and respectful person in life. His promotion of loving one another and treating each person the way you'd want to be treated is a message all should hear. This is an inarguably prevalent message that is the focus of most of his music. For example, his song "Butterfly" is a mix of soothing vocals with a relaxing use of synths, bass, and electric sound. Lorin also often posts messages on his Twitter and Facebook pages promoting treating everyone equally and living your life the way you want to live it. This is definitely a good message to promote, especially one from a big time music artist.
~~ Matt Guercio
Ad blocker interference detected!
Wikia is a free-to-use site that makes money from advertising. We have a modified experience for viewers using ad blockers

Wikia is not accessible if you've made further modifications. Remove the custom ad blocker rule(s) and the page will load as expected.