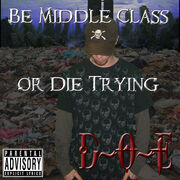 Be Middle Class or Die Trying is an album by joe DOE, released under his former artist name D-O-E. Description from CD Baby:
The latest epic chapter in the sykophunk saga. DOE is uncompromising as he tackles social issues and current events in what he calls his "most important release ever." Covering a spectrum of both musical and vocal styles, this album is a showcase of sykophunk's evolution into a powerful weapon against the oppressive forces of society.
The album opens with a gritty, distorted rhyme intro over a dark trip hop beat, as DOE sets the mood for the relentless audio attack to come. The first single, "Everyone is a Hustler Now," addresses mainstream hip hop and the economy in an entertaining yet brutally honest way. Songs like "Green" and "Robo Sapien" use the attitudes of rap and hard rock to fight back against a crooked government, media brainwashing, and social inequality. The goth-rock inspired "Independent" is a cynical take on the struggles and successes of being an independent artist. "Always Be a Hater" provides a funky interlude spiced with humor, though DOE still manages to make piercing points with his witty style. After more examples of forceful alternative hip hop and poetic spoken word over electro-ambient soundscapes, the album wraps up with the heartfelt, retrospective song "Life."
Be Middle Class or Die Trying is DOE's opus; a testament to the progression of the sykophunk genre and how far DOE has come as both an artist and a person.
Track listing
Edit
introDeconstruction
Independent
Everyone is a Hustler Now
Robo Sapien
Green
Contagion
Always Be a Hater
Modern MK-Ultra
Killer on the Sidewalk
Slide
Recession
Man and Machine
Back to School (recap)
Rebirth (remix)
Life
Further Info
Edit
Ad blocker interference detected!
Wikia is a free-to-use site that makes money from advertising. We have a modified experience for viewers using ad blockers

Wikia is not accessible if you've made further modifications. Remove the custom ad blocker rule(s) and the page will load as expected.