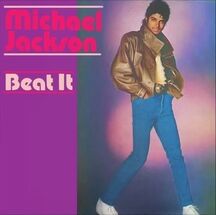 Beat It opens in a diner/pool hall, where two men walk outside and then the members of two warring gangs gather and march to a "rumble" inspired by the film West Side Story, at a warehouse. Throughout, Jackson appears as a lone figure, dancing throughout the diner, eventually arriving at the warehouse just as the gang leaders are engaged in a knife fight. The cast begins to dance and breakdance. Also, some of the less-experienced dancers flubbing steps in the background behind Jackson. Many of the participants in the video's dance sequences were actual street gang members, brought in to authenticate the look and feel of the piece.
Statistics
Edit
Key: Eb minor
Year: 1983
Album: Thriller
Length: 4:57
Genre: Pop
Ad blocker interference detected!
Wikia is a free-to-use site that makes money from advertising. We have a modified experience for viewers using ad blockers

Wikia is not accessible if you've made further modifications. Remove the custom ad blocker rule(s) and the page will load as expected.