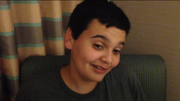 Bill "Flash" Thompson (born July 16, 1977) is an American country singer, songwriter, and podcast host. Thompson is best known for his love of America and satirical character he plays on his podcast "Proud To Be An American". In his musical career, he has written one single, appropriately titled as "Proud To Be An American".
Thompson resides in a small hick town known as The Heart of America, Texas.
Discography
Edit
Ad blocker interference detected!
Wikia is a free-to-use site that makes money from advertising. We have a modified experience for viewers using ad blockers

Wikia is not accessible if you've made further modifications. Remove the custom ad blocker rule(s) and the page will load as expected.