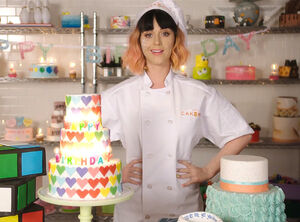 Birthday is a song sang by music writer Katy Perry. The song was released on April 21, 2014
Information
Edit
Released: April 21, 2014 Recorded: 2013 Genre: Disco Length: 3:35 Label: Capitol Writer(s): Katy Perry, Lukasz Sebastian, Max Martin, Bonnie McKee, and Henry Walter Producer(s): Lukasz Sebastian, Max Martin, and Cirkut
"I heard you're feeling, Nothings going right, Why don't you let me, stop, by."
"The clock is ticking, Running out of time, So we should party, all night."
"So cover your eyes, I have a surprise, I hope you got a healthy appetite."
"If you wanna dance, If you want it all, You know that I'm the girl that you should call."
"Boy when you're with me, I'll give you a taste, Make it like your birthday everyday."
"I know you like it sweet, So you can have your cake, Give you something good to celebrate."
Ad blocker interference detected!
Wikia is a free-to-use site that makes money from advertising. We have a modified experience for viewers using ad blockers

Wikia is not accessible if you've made further modifications. Remove the custom ad blocker rule(s) and the page will load as expected.