Blonde on Blonde is the seventh album of Bob Dylan, a double LP (presumably the first in pop history), which was produced by Bob Johnston and recorded in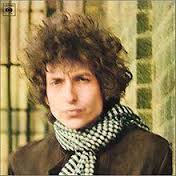 Nashville, Tennessee. The album was released in the spring of 1966. Blonde on Blonde is considered one of Dylan's best work, some consider it as Dylan's absolute masterpiece: on the List of Rolling Stone's 500 Greatest Albums of All Times occupied Blonde on Blonde telling place number 9. Blonde on Blonde at the time in the United States rose to number nine on the Billboard's Pop Albums chart; in England, the album was at # 1 on the third place.
Blonde on Blonde is after Bringing It All Back Home and Highway 61 Revisited, both from 1965, Dylan's third album, with his home-made him distinctive rock and rollgeluid.On the album hear some sound-like a jazz influence by, which can be attributed to the bunch seasoned studio musicians, which incidentally have an essential share in the atmosphere of the two plates. Surpass the 14 numbers considering the 4 minutes of gameplay. The Ballad Sad Eyed Lady Of The Lowlands takes eleven and half minute, unusually long for the beat era. On the other hand, there is criticism of the total playing time of the album, just a little too little to fill four LP sides.
 [hide]*1 the place of Blonde on Blonde in Dylan's oeuvre
The place of Blonde on Blonde in Dylan's oeuvre

[

Edit

]

Edit
Blonde on Blonde is considered by many to be the absolute culmination point in Dylan's comet-like development as 1960s pop musician. The album is the closing of an ever-more creative, surreal and rocking Bob Dylan. The artist is in danger of this time-both before and after the recordings for Blonde on Blonde-and despite or thanks in part to the speed, faster and to fly any time off the road. The giddy carousel of pressing commitments and performances is coming to an end by an accident with his motorcycle, on 29 July 1966. For Dylan suddenly enters a period of rest and recovery, in the seclusion and spent in the womb of his family.The following plate, John Wesley Harding, from 1967, it seems the result of repentance and reflection: this genuine antique sounding plate, if dug up from the middle of the 19th century, once again testifies to a high level. ' John Wesley ' is included, the religious texts seem geispireerde acoustic simplicity itself, however by no means destitute of symbolism and morality. Bob Dylan in 1975 until the surprise will pop with a studio-plate that his past work know to match: Blood On The Tracks is the Dylan-music that particularly high will be appreciated by later born, new generations of fans.
The Musical Foreplay

[

Edit

]

Edit
Dylan's performance at the Newport Folk Festival of 1965 marks his first attempt at his new electric sound on a concert proceeds. His next attempt was planned on two concerts at the end of August. Al Kooper and bassist Harvey Brooks, both of which already on Highway 61 Revisited (Dylan's sixth LP from 1965) also played a role, were for these performances enabled, but guitarist Michael Bloomfield and drummer Bobby Gregg were unable to come because of obligations. In their place, Dylan recruited Robbie Robertson and Levon Helm, members of The Hawks (later world famous as The Band).
It is not clear how Dylan came to this decision; He was informed of The Hawks through John Hammond, junior. Possible that the Secretary of his manager, Mary Martin, a fan of the Hawks, a suggestion did to them in rent.
Dylan took over after an audition to Robertson. With a provisional band followed some performances, without a helmet, in the Carrols Rehearsal Hall. After two weeks there with Helmet came. Helmet remembers that Robbie was not impressed by Dylan's drummer and that he Dylan suggestions did to him.
The first concert took place on August 28, 1965 in New York's Forest Hills. The first half consisted of a 45-minute acoustic gig. That also seemed intended to satisfy the old fans, but only To Ramona (from Another Side Of Bob Dylan) belonged to the really older work. The epic Desolation Row (from Highway 61 Revisited) played Dylan acoustic, after which he briefly deliberated with the others before the second part full of electric to catch.
The double album contains several classics such as Rainy day women # 12 & 35, Visions of Johanna and I want you. The impressive last song on the record, Sad eyed lady of the lowlands, is an ode to his first wifeSara.
All songs written by Bob Dylan. 
Nr.
Title
Duration
1.
Rainy Day Women # 12 & 35  
4:35
2.
Pledging My Time  
3:42
3.
Visions of Johanna  
7:27
4.
One of Us Must Know (Sooner or Later)  
4:53
5.
I Want You  
3:06
6.
Stuck Inside of Mobile with the Memphis Blues Again  
7:04
7.
Leopard-Skin Pill-Box Hat  
3:50
8.
Just Like a Woman  
4:39
9.
Most Likely You Go Your Way (and I'll Go Mine)  
3:22
10.
Temporary Like Achilles  
5:03
11.
Absolutely Sweet Marie  
4: 46
12.
4th Time Around  
4:26
13.
Obviously 5 Believers  
3:30
14.
Sad-Eyed Lady of the Lowlands  
11:19
71: 23
Ad blocker interference detected!
Wikia is a free-to-use site that makes money from advertising. We have a modified experience for viewers using ad blockers

Wikia is not accessible if you've made further modifications. Remove the custom ad blocker rule(s) and the page will load as expected.