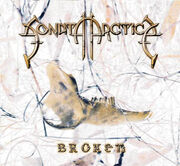 Tracklist:
Edit
1. Broken (edit version) (3:50)
2. Broken (album version) (5:17)
3. Dream Thieves (4:23)
4. The Gun (3:34)

Additional information:
Edit
The first two minutes of the edited version of Broken are identical with the album version, but the next verse ("Seven lifes of a man - - - if you feel for me.") and the following chorus are removed. The song continues with the calmer part ("Little broken, always been...") and the end of the song is the same with the album version.
Dream Thieves and The Gun were recorded over a year before this single was actually released. Though Henrik Klingenberg is listed on the inlet, he doesn't play on this cd, all keyboards are played by Tony Kakko (except the keyboard solo of The Gun, which is played by Mikko Härkin). The cover image illustrates some kind of jaw (from a skull of some animal), the photo is taken by Tony Kakko.
Dream Thieves was played live first time almost a year before the song was released. Sonata Arctica opened their set with Dream Thieves at Tuska Festival, July 14th 2002.
Ad blocker interference detected!
Wikia is a free-to-use site that makes money from advertising. We have a modified experience for viewers using ad blockers

Wikia is not accessible if you've made further modifications. Remove the custom ad blocker rule(s) and the page will load as expected.