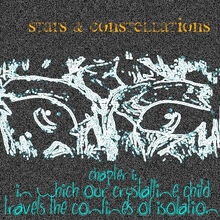 Chapter I: In Which Our Crystalline Child Travels The Confines Of Isolation is the début album from instrumental Ambient, Neoclassical, and Electronic artist Stars & Constellations. It was released through Bandcamp on December 12, 2011. It is also Part 1 in the Epic Catalogue of the Crystal Heart. The themes within this album are loneliness, oppression, discovery, and homecoming.
Track Listing
Edit
(Written, Conceived, Mixed, Mastered, Told by: Arctic Bear and Azrael Belford)
"The Descent" (03:22) 
"Crystalline Midfall" (03:32)
"A New Fear" (03:57)
"Time Travel" (03:20)
"Craving Warmth" (03:28)
"Flux" (01:14)
"Neon Children" (04:51)
"Finding Sleep" (04:45)
"Transmission 001" (01:19)
"Circumvention" (04:17)
"Aftermath" (01:11)
"Dreamland ((Act I: Sinking Stars, Act II: Drifter))" (07:31)
"Epilude" (03:29)
"A New Song" (04:01)
"Orion: The Arrival" (03:45)
(Total Time - 54:02)
Ad blocker interference detected!
Wikia is a free-to-use site that makes money from advertising. We have a modified experience for viewers using ad blockers

Wikia is not accessible if you've made further modifications. Remove the custom ad blocker rule(s) and the page will load as expected.