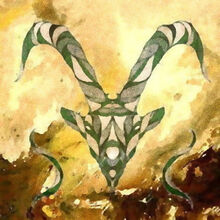 Chapter V: In Which Our Minds Unwind is the fifth full-length album from instrumental Ambient, Neoclassical, and Electronic artist Stars & Constellations. It was released through Bandcamp on November 18, 2015. It is also Part 5 in the Epic Catalogue of the Crystal Heart. The themes within this album are the season cycle and being at one with nature.
Track Listing
Edit
(Written, Conceived, Mixed, Mastered, Told by: Arctic Bear, Azrael Belford, and Capricorni)
"Vernal Cream" (05:15)
"The Immortal Blossoming" (05:26)
"Cicadance" (05:07)
"Summertide" (05:32)
"Pyrexius" (05:51)
"Efflorescia [Transmission 026]" (05:04)
"Autumnine" (06:30)
"Miring" (05:52)
"Covering in Rime" (05:22)
"Winterfell" (05:47)
"An Ivory Mistral" (05:34)
"Clambering to the Stars" (05:13)
(Total Time - 01:06:43)
Ad blocker interference detected!
Wikia is a free-to-use site that makes money from advertising. We have a modified experience for viewers using ad blockers

Wikia is not accessible if you've made further modifications. Remove the custom ad blocker rule(s) and the page will load as expected.