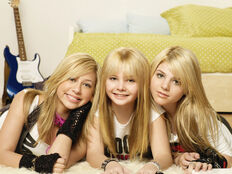 Clique Girlz was an American girl group consisting of sisters Destinee and Paris Monroe and Ariel Moore and later, Sara Diamond. The original group was Destinee, Paris, and Ariel. In 2009, Ariel left the group for unnamed private reasons which resulted in Sara joining the group. The group split up in 2009 when Sara Diamond left the group in 2009.
The teen pop girl group sang "Alter Ego" for the Bratz Motion Picture Soundtrack and "Here With Me Now" for The Clique Motion Picture Soundtrack.
Clique Girlz (2008)
Incredible (2008)
Then I Woke Up
Incredible
How Do You Like Me So Far?
The Difference in Me
Here With Me Now
Alter Ego
Ad blocker interference detected!
Wikia is a free-to-use site that makes money from advertising. We have a modified experience for viewers using ad blockers

Wikia is not accessible if you've made further modifications. Remove the custom ad blocker rule(s) and the page will load as expected.