Concerts For The People Of Kampuchea
Compilation album
The Who chronology
| | | |
| --- | --- | --- |
| Face Dances (1981) | Concerts For The People Of Kampuchea (1981) | It's Hard (1982) |
Concerts For The People Of Kampuchea
Compilation album
Queen chronology
| | | |
| --- | --- | --- |
| Flash Gordon (1980) | Concerts For The People Of Kampuchea (1981) | Hot Space (1982) |
Concerts For The People Of Kampuchea
Compilation album
Elvis Costello chronology
| | | |
| --- | --- | --- |
| Almost Blue (1981) | Concerts For The People Of Kampuchea (1981) | Imperial Bedroom (1982) |
Concerts For The People Of Kampuchea
Compilation album
The Pretenders chronology
| | | |
| --- | --- | --- |
| Pretenders II (19810 | Concerts For The People Of Kampuchea (1981) | Learning To Crawl (1984) |
Concerts For The People Of Kampuchea
Compilation album
The Clash chronology
| | | |
| --- | --- | --- |
| Sandinista! (1980) | Concerts For The People Of Kampuchea (1981) | Combat Rock (1982) |
Concerts For The People Of Kampuchea
Compilation album
The Specials chronology
| | | |
| --- | --- | --- |
| More Specials (1980) | Concerts For The People Of Kampuchea (1981) | In The Studio (1984) |
Concerts for the People of Kampuchea is a double album from
Wings
,
The Who
,
Queen
,
Elvis Costello
,
The Pretenders
,
The Clash
,
The Specials
, and many more artists of the highlights from the Concerts For The People Of Kampuchea held at the Hammersmith Odeon in London to raise money for the victims of war-torn in Cambodia. It has yet to be released on CD.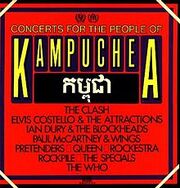 Track listing
Edit
The Who - Baba O'Riley
The Who - Sister Disco
The Who - Behing Blue Eyes
The Who - See Me, Feel Me
The Pretenders - The Wait
The Pretenders - Precious
The Pretenders - Tattooed Love Boys
Elvis Costello & The Attractions - The Imposter
Rockpile - Crawling From The Wreckage
Rockpile With Robert Plant - Little Sister
Queen - Now I'm Here
The Clash - Armagideon Time
Ian Dury & The Blockheads - Hit Me With Your Rhythm Stick
The Specials - Monkey Man
Wings - Got To Get You Into My Life
Wings - Every Night
Wings - Coming Up
Rockestra - Lucille
Rockestra - Let It Be
Rockestra - Rockestra Theme
Ad blocker interference detected!
Wikia is a free-to-use site that makes money from advertising. We have a modified experience for viewers using ad blockers

Wikia is not accessible if you've made further modifications. Remove the custom ad blocker rule(s) and the page will load as expected.