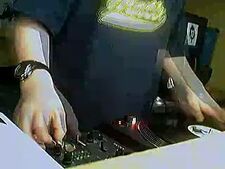 Founded: 2004
Headquarters: Carlow, Ireland
Website Link(s):
Band Members
Edit
James Strain (DJ)
Includes Members of
Edit
Band Biography
Edit
By the artist:
I got my first set of turntables in 2004 on my birthday. I didn't have a clue of how to scratch but I still practiced and learned. I made some tracks with a drum machine and layers of scratching which was really my first experience of producing. When I got a PC I got FL Studio and started trying to make beats. Eventually I got better and moved on to Reason, which I think is much better. I also make remixes and mash-ups. Usually I make these into mixtapes and put them up for free download. Right now I'm working on a few projects; my debut album, an album with CJ Hood, [[Point Zer's debut album & [[Monator's debut album.
Discography
Edit
[[Battle Records:DJ Zap|Battle Record / [[Breakin Beats:DJ Zap|Breakin Beat==Appears On==
Videography
Edit
Styles Of Beyond - Style Warz (DJ Zap Live Remix)
DJ Zap - Built From Scratch
Beastie Boys - Alive (DJ Zap Scratch Remix)
Radio Shows
Edit
[[Category: Artis
Ad blocker interference detected!
Wikia is a free-to-use site that makes money from advertising. We have a modified experience for viewers using ad blockers

Wikia is not accessible if you've made further modifications. Remove the custom ad blocker rule(s) and the page will load as expected.