This page may need to be cleaned up to reach a higher standard of quality.

This may include editing to correct spelling and grammar, and rewriting sections to ensure they are clear and concise.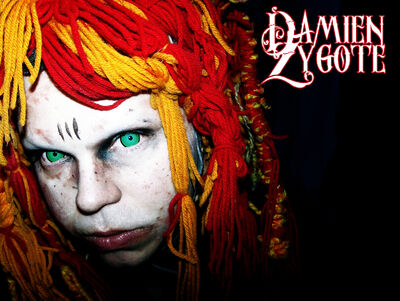 Damien Zygote
is one of the most misunderstood artists to emerge from 21st century. His unusual philosophy and creative imagination is present in every aspect of his life. He began his career as a recording artist in the year 2000. A series of self produced CDs landed him on the largest Rock / Alternative radio stations in his home state, including
Stephen King's WKIT
in Bangor Maine. A local and regional fan base assembled and DZ started touring the state. His live performances and self produced recordings earned him a reputation for the unexpected. As a singer and song writer his popularity and recognition grew through word of mouth and the internet. He continued to evolve and transform himself as an entertainer, producer and artist. He eventually gained the attention of entertainment companies in New York City and Hollywood California which led to his first national press coverage in Wonka Vision Magazine and CMJ. DZ then turned his sights on other aspects of art and entertainment including Movies & Photography. He began working with local production companies and underground film makers on independent films and music videos. These creative outlets began to reveal new dimensions of his personality and gave him the opportunity to expand his career and evolve once again.Damien Zygote is currently producing his own Alternative Reality show for the web and is involved in several animated and non animated cartoons. DZ continues to create great music as a recording artist and is also exploring the world of photography and film making.
Ad blocker interference detected!
Wikia is a free-to-use site that makes money from advertising. We have a modified experience for viewers using ad blockers

Wikia is not accessible if you've made further modifications. Remove the custom ad blocker rule(s) and the page will load as expected.