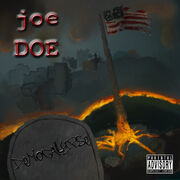 Democalypse is an album by sykophunk artist joe DOE. The title is a combination of the words "democracy" and "apocalypse." It can be considered a concept album, though a few songs stray from the concept. The majority of the album depicts a near-future world in which the end of the world is brought on by mankind's own greed and selfishness, and the revolution needed to rise up and save the human species from itself. This story ties in with the Dark Domain fiction world which DOE has made reference to in some past songs.
In comparison to joe DOE's previous work (including material under his former stage name, D-O-E), Democalypse mixes genres even more, placing more emphasis on melody and mood than ever before. The core of the songs are still built upon hard-hitting beats and intricate lyrics, but the hybrid nature of sykophunk is preserved by employing elements of trip hop, cyber-punk, industrial dance, goth/darkwave, electro-acoustic, ambient, and even a hint of pop. The album also features guest appearances by some of DOE's underground collaborators who bring their own style to the tracks they contribute to.
Three versions of the album were made available upon release: digital (MP3 download), street, and the "deluxe" retail version including three bonus tracks ("Deconstruction," "Solar Maximum," and "Lunar Maximum").
Track listing
Edit
Welcome to the rEvolution
Epic Awesomeness ft. Randy Stockton from GrimWitcH
Shitting in the Lap of Luxury ft. Thomas Scott Farrell
Dance Until the End of Time
Crazy Like a Fox News Broadcast
Battle Scars ft. Christel South
Fail is the New Pwned
OMG
2012 ft. Dan Fury Flanagan
The Catchy Song
Wake From This Nightmare
Sick Shit (remix)
Deconstruction ft. Cherie O, Virgil Deuce and Christian Bell
Solar Maximum
Lunar Maximum
Further Reading
Edit
Ad blocker interference detected!
Wikia is a free-to-use site that makes money from advertising. We have a modified experience for viewers using ad blockers

Wikia is not accessible if you've made further modifications. Remove the custom ad blocker rule(s) and the page will load as expected.