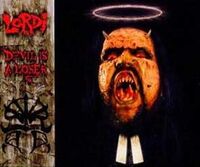 "Devil is a Loser" is the second single by the Finnish heavy metal band Lordi. It is one of six songs that have been made into music videos by the band. It was originally released in 2002, as part of the album entitled Get Heavy.
Tracklist
Edit
"Devil Is a Loser" (3:29)
"Don't Let My Mother Know" (3:32)
"Devil Is a Loser" (music video)
Non-Satanic song
Edit
Lordi, who are frequently referred to as a Satanic band, often point to this song — which refers to the Devil as the singer's "bitch" — as evidence contrary to that assertion. As the songwriter and composer Tomi Putaansuu (Mr. Lordi) puts it, "We have many fans who are believers. Devil Is a Loser opened the gates in that perspective. It has such a statement that fans in faith realised that these guys are on our side."
"Devil Is a Loser" was one of six songs performed in the 26 May 2006 open-air concert in Helsinki, where the band celebrated their Eurovision victory, the first for any Finnish band, where the song "Hard Rock Hallelujah" won them a record 292 points. The song reached number 9 on the Finland Top 20 chart on February 15, 2003 and number 10 on the World Modern Rock Top 30 Singles on February 15, 2003.
Ad blocker interference detected!
Wikia is a free-to-use site that makes money from advertising. We have a modified experience for viewers using ad blockers

Wikia is not accessible if you've made further modifications. Remove the custom ad blocker rule(s) and the page will load as expected.