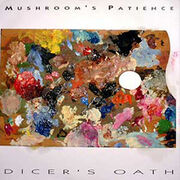 Dicer's Oath - 1991 Atropina Manufactory Records
The debut on vinyl came in 1991 with "Dicer's Oath".
Mushroom's Patience continued to exist in the underground and to release very limited and hard to find material.
Italian avantgarde band based in Rome. Their music melts acid jazz, noise, electronics, experimental sounds and improvisation. They formed in the early 1980s and released various cassette demos via their own label Atropina Manufactory.
Ad blocker interference detected!
Wikia is a free-to-use site that makes money from advertising. We have a modified experience for viewers using ad blockers

Wikia is not accessible if you've made further modifications. Remove the custom ad blocker rule(s) and the page will load as expected.