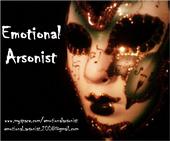 Emotional Arsonist came into creation in Ireland in the summer of 2008 and was the brainchild of Keith James Clarke. Emotional Arsonist started as a solo project, but has evolved into a dynamic and energetic live band.
Emotional Arsonist music is without any doubt on the "darker" path, but not without a lot of energy and power. Currently, there are a number of demo releases available that can be heard on myspace, reverbnation, facebook, bebo and friendster. This slow release of demos prior to the album release has already started to build up a steady fan-base world-wide, with most interest coming from music fans in the US. Emotional Arsonist has been compared to a number of artists including Marilyn Manson, Radiohead, Depeche Mode, Nine Inch Nails, Bauhaus and David Bowie, but the over-riding feedback is that Emotional Arsonist has a Dark & 'Unique' sound that is nothing like what is currently happening in the music world, and is appealing to audiences across all age groups and cultures. His lyrics have been described as thought provoking and original.
Bringing an extra edge and energy to the music through live performance, band members Arek R (Guitar), Rob Swan (Drums), Crypt Sphinx (Bass) & the final addition to the line-up, Alec Wilson (Guitars/Keyboards) have taken emotional Arsonist to another level.
The album "Inception" will be released in 2010 following a UK Tour starting on 31st July. Make sure you get to see this band live as they go from strength to strength. They music may be dark, but they shine a light in an otherwise dark time for new music.
Tour dates scheduled for 2010 are:
Sat 31st July - Bittersuite (Preston) Sun 1st August - The Racehorse (Northampton) Mon 2nd August - The Old Bell (Derby) Tue 3rd August - The Central (Nottingham) Wed 4th August - The Twist (Colchester) Fri 6th August - Base Studios (Stourbridge) Sat 7th August - Rios (Bradford) Sun 8th August - The Vic Bikers Pub (Leicestershire) Mon 9th August - Satan's Hollow (Manchester) Wed 11th August - The Joshua Tree (Southampton) Thu 12th August - The Railway (Ipswich) Fri 14th August - "Festival of Sins" @ The Purple Turtle (London)
Emotional Arsonist is coming. Watch this space.
http://www.emotionalarsonist.com -
http://myspace.com/emotionalarsonist -
http://vampirefreaks.com/emotional_arsonist -
Ad blocker interference detected!
Wikia is a free-to-use site that makes money from advertising. We have a modified experience for viewers using ad blockers

Wikia is not accessible if you've made further modifications. Remove the custom ad blocker rule(s) and the page will load as expected.