EuNb

Background information
Birth name
Go Eun Bi
Also known as
EuNb
Born
November 23, 1992 
Death
September 3, 2014   (age 23)         
Origin
Seoul, South Korea
Occupation(s)
Singer-songwriter,  
Years active
2013 - 2014
Label(s)
Polaris Entertainment
Lyrics
Ladies' Code on Lyrics Wiki
Go Eun Bi (born 23 November 1992- died 3 September 2014), better known by her stage EuNb is a member of the South-Korean girl-group Ladies' Code. EuNb passed away on the night of September 3 2014. She died in a car crash and was killed immediately.
Ladies' Code
Edit
Go Eun Bi was a vocalist in the girl-group Ladies' Code with four other members: Sojung, RiSe, Ashley and Zuny. The group debuted in 2013 with their mini-album #01Code Bad Girl. The group grew fame in Asia with their hit single Pretty Pretty which awarded them with a Gaon Chart Award. In 2014 the group premiered a new single "Kiss Kiss". The song blew Kpop music by storm. Sadly on September 3, 2014. Ladies' Code was in a tragic car crash. The car crash was caused by Mr Park, Ladies' Code's manager
On the night of September 3, 2014 South-Korean girl-group Ladies' Code was in a tragic car Crash when one of the wheels of the rental-car had became loose many people claimed that the wheel had flown of the car on the night. The car then hit a wall claiming Go Eun Bi's life, a few other members were seriously injured. Kwon Ri Sae also known as RiSe is a member from the South-korean girl group who also lost her life at the age of 24. Ri Sae had lost her life four days after the tragic had taken place. EuNb's funeral was held the next day after the car crash had taken place. Two other members were suffering with minor injuries. Zuny another member from Ladies' Code had seriously fractured her jaw. Ashley who had minor injuries. Another member of the group Sojung had seriously major injuries causing her to have plastic surgery. The group is still recovering from injuries and shock. The driver which caused this tragic disaster Mr Park (aged 26) was sentenced for 2.5 years in jail after taking two innocent members lives.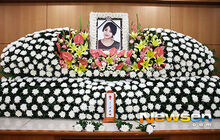 Her agency, Polaris Entertainment, announced that her funeral will be held at Korean University Anam Hospital until her funeral on September 5.
Ad blocker interference detected!
Wikia is a free-to-use site that makes money from advertising. We have a modified experience for viewers using ad blockers

Wikia is not accessible if you've made further modifications. Remove the custom ad blocker rule(s) and the page will load as expected.