Ad blocker interference detected!
Wikia is a free-to-use site that makes money from advertising. We have a modified experience for viewers using ad blockers

Wikia is not accessible if you've made further modifications. Remove the custom ad blocker rule(s) and the page will load as expected.
Flowers In The Dirt
Studio album by Paul McCartney
Released
5 June 1989
Recorded
September 1987-February 1989
Genre
Rock
Length
53:42
Language
English
Label
Parlophone
Producer
Paul McCartney, Mitchell Froom, Niel Dorfsman, Elvis Costello, Trevor Horn, Steve Lipson, Chris Hughes, Ross Cullum, David Foster
Paul McCartney chronology
Flowers in the Dirt is the eighth solo studio album by
Paul McCartney
, released in 1989. It was considered a major return upon release for McCartney because he was embarking on his first world tour since the Wings Over The World jaunt back in 1975/1976.
Flowers in the Dirt
was also celebrated due to its musical quality, which earned McCartney his best reviews in years.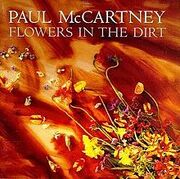 Track listing
Edit
Side One
My Brave Face
Rough Ride
You Want Her Too (with Elvis Costello)
Distractions
We Got Married
Put It There
Side Two
Figure Of Eight
This One
Don't Be Careless Love
That Day Is Done
How Many People
Motor Of Love
CD bonus track
Où Est Le Soleil?
1993 Bonus Tracks
Back On My Feet
Flying To My Home
Loveliest Thing
iTunes Bonus Track
This One (Club Lovejoys Mix)