Artist: Fort Minor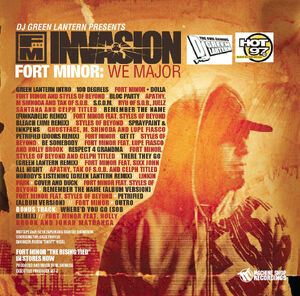 Date Released: 2007
Label: Machine Shop Recordings
Produced By: DJ Green Lantern
Tracklisting:

Review:
Review by: JackSparrow
Fort Minor: We Major is the official Mixtape of Fort Minor, that was released before-hand to promote the premiere Fort Minor album, The Rising Tied. It contains no Parental Advisory, but is all Explicit Content, as most Mixtapes are. And I recently found out that the Mixtape is not illegal for people to buy, even though the samples were aquired illegally. So make sure to get you're copy of this Mixtape Masterpiece! For edited versions of several tracks, please buy a copy of the Fort Minor: We Major EP (Vinyl).
Further reading
Edit
Personnel
Edit
Produced & Mixed by Mike Shinoda.
Executive Produced by Shawn Carter.
Mixtape A&R by Seth "Dawgie Diamonds" Zaplin.
Coordination by Dave Parker.
Engineering by Reuben "Swift" Vidal.
Mixtape Track/Sample Information
Edit
"100 Degrees" – Written by Mike Shinoda. Performed by Fort Minor. Contains a sample of the movie Gangs of New York.
Ad blocker interference detected!
Wikia is a free-to-use site that makes money from advertising. We have a modified experience for viewers using ad blockers

Wikia is not accessible if you've made further modifications. Remove the custom ad blocker rule(s) and the page will load as expected.