This page may need to be cleaned up to reach a higher standard of quality.

This may include editing to correct spelling and grammar, and rewriting sections to ensure they are clear and concise.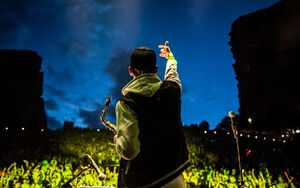 Grant Kwiecinski, also known as GRiZ, is a 24 year old American DJ and electronic producer from Michigan. Growing up playing the saxophone, Grant has mastered the art of funky toons and psychadelic rhythms. Known for using his saxophone, GRiZ produces funk, electro-soul, and his own proclaimed future-funk. Having numerous collaborations with other artists such as Bassnectar, Pretty Lights, Big Gigantic, and Gramatik, GRiZ is definitely an upcoming funk maestro with one goal: to bring the groove out of everyone!
Grant Kwiecinski was born and raised in Southfield, MI, a suburb of Detroit. In Elementary School, Kwiecinski was introduced to two instruments: the alto-saxophone and the piano. Having old funk influences from groups such as The Meters, Kwiecinski found himself drifting towards the groovy lifestyle. He eventually attended Michigan State University for a few years before dropping out to pursue his musical interests and career. Before leaving MSU, Kwicienski improved his mixing abilities by DJ'ing parties at friends' houses and playing shows in the East Lansing area.
The first album to skyrocket his career on the path to success was End of the World Party, released in 2011. This influenced his musical tastes and how he wanted to label himself in the EDM business. Using his own spin, GRiZ effectively created groovy dubstep with the use of his saxophone, guitars, pianos, and stems from Ableton. With this first release, GRiZ went on tours with artists such as Bassnectar, Pretty Lights, Big Gigantic, and Gramatik. This eventually led to his own headlining tour. GRiZ later released three more albums: Mad Liberation with collabs from Gramatik in 2012, Rebel Era in 2013, and Say It Loud in 2014. The extraordinary success he achieved led him to create his own record label, All Good Records.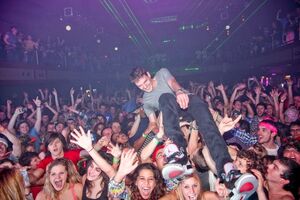 The aspect that separates Grant from most artists is his loyalty and devotion to his fans. He posts on his Facebook, Twitter, and also emails countless messages to fans that promote good vibes and living your life to the fullest without any limitations. Grant is more than willing to meet fans and sign autographs as well as take photos, which a lot of artists are unwilling to do for their own personal reasons. GRiZ can be seen playing afterparties after his shows at local houses with fans and other various locations around the venues. The fact that Grant Kwiecinski is a down-to-earth producer, and a groove maestro that promotes happiness and serenity, most certainly tops him off above most artists.
Ad blocker interference detected!
Wikia is a free-to-use site that makes money from advertising. We have a modified experience for viewers using ad blockers

Wikia is not accessible if you've made further modifications. Remove the custom ad blocker rule(s) and the page will load as expected.