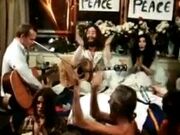 Give Peace a Chance features footage of John Lennon and Yoko Ono's Bed-In on June 1, 1969, in Room 1742 at the Queen Elizabeth Hotel in Montreal. It was recorded using setup of four microphones and a four-track tape recorder rented from a local recording studio. The recording session was attended by dozens of journalists and various celebrities, including Timothy Leary, Rabbi Abraham Feinberg, Joseph Schwartz, Allan Rock, Rosemary Woodruff Leary, Petula Clark, Dick Gregory, Allen Ginsberg, Murray the K, Al Capp and Derek Taylor. Lennon played acoustic guitar and was joined by Tommy Smothers of the Smothers Brothers, also on acoustic guitar.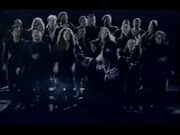 Give Peace a Chance features Lenny Kravitz, Yoko Ono and Sean Ono Lennon collaborating with other celebrities in response to the imminent Gulf War. The group includes Amina, Adam Ant, Sebastian Bach, Bros, Felix Cavaliere, Terence Trent D'Arby, Flea, John Frusciante, Peter Gabriel, Kadeem Hardison, Ofra Haza, Joe Higgs, Bruce Hornsby, Lee Jaffe, Al Jarreau, Jazzie B, Davey Johnstone, Lenny Kravitz, Cyndi Lauper, Little Richard, LL Cool J, MC Hammer, Michael McDonald, Duff McKagan, Alannah Myles, New Voices of Freedom, Randy Newman, Tom Petty, Iggy Pop, Q-Tip, Bonnie Raitt, Run, Dave Stewart, Teena Marie, Little Steven Van Zandt, Don Was, Wendy & Lisa, Ahmet Zappa, Dweezil Zappa, and Moon Unit Zappa.
Ad blocker interference detected!
Wikia is a free-to-use site that makes money from advertising. We have a modified experience for viewers using ad blockers

Wikia is not accessible if you've made further modifications. Remove the custom ad blocker rule(s) and the page will load as expected.