Glen Long is a world famous Country and Jazz guitarist. He is best known for his work with The Fables, a country band from Dayton, Tennessee. After quitting that band, Glen remained without a project until 2013, when Masen Cheeks invited him to play in Masen and the Old Folks, a country music super group featuring Audrey Burton from the East Tennessee Country Music Playhouse Lineup and her husband, Larry Burton, where, after a major feud with the band, remains today.
Childhood and The Fables
Edit
Glen Long was born in 1950, learning guitar from his father, mastering it by age 12. Glen played with many people until auditioning for a country group named The Fables, featuring Benny Daniels, later Bobby Beard, "The Jud", and others. He successfully toured Canada twice with The Fables, and the band, without Glen, played on "To Tell The Truth" on an unknown date in 1974. Glen quit the band, to be replaced by Bobby Beard. Bobby and Benny had a reunion show in 2013, but Glen was not present.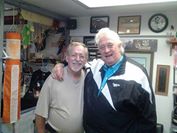 Post Fables Career and Masen and the Old Folks
Edit
After quitting the band, Glen had multiple other projects, none as successful as The Fables. Glen eventually stopped and married. Sadly, Glen and his wife got a divorce. Glen played locally for years until being asked by A.K. Band leader,
Masen Cheeks
to form a super group with them and Audrey Burton from the
East Tennessee Country Music Playhouse
Lineup in 2013. Glen agreed, and so did Larry Burton, a drummer who was married to Audrey. The band was named
Masen and the Old Folks
, after how Masen was the only younger member of the group, and it seemed to fit. Glen released many hits with this band. He was fired from the group after a failure tour, but was invited back in 2015, and the tour was very successful. Glen still plays with them today.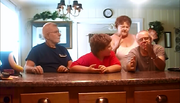 Ad blocker interference detected!
Wikia is a free-to-use site that makes money from advertising. We have a modified experience for viewers using ad blockers

Wikia is not accessible if you've made further modifications. Remove the custom ad blocker rule(s) and the page will load as expected.