Highway 61 Revisited  [1]] is the sixth studio album by the American singer-songwriter Bob Dylan. It was released in August 1965 by Columbia Records . It is Dylan's first album to be fully incorporated with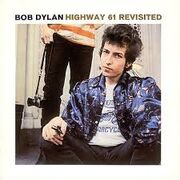 a rock band. Dylan is at this point in his career could be called "angry young man".
The album reached the third position in the Billboard 200 Albums Charts. [2] It is in third place in Rolling Stones list of The 500 Greatest Albums of All Time. [3]
All songs written by Bob Dylan. In parentheses is the date of the recording indicated.
Ad blocker interference detected!
Wikia is a free-to-use site that makes money from advertising. We have a modified experience for viewers using ad blockers

Wikia is not accessible if you've made further modifications. Remove the custom ad blocker rule(s) and the page will load as expected.