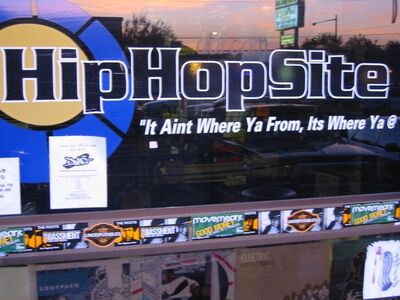 Hip-Hop Site is a website and store (the store being located in Las Vegas, Nevada) specializing (as the name implies) in Hip-Hop CDs/Vinyls/Mixtapes, and many other special Hip-Hop collectables.
They also release a free, monthly CD entitled "Preemptive Hype", as of June 2006, they are on Volume 13. The Preemptive Hype volumes contain tracks (used with prior written permission) from upcoming Albums, from artists who Hip-Hop Site recognizes as having talent, and who they wish to support, such as Lupe Fiasco.
Ad blocker interference detected!
Wikia is a free-to-use site that makes money from advertising. We have a modified experience for viewers using ad blockers

Wikia is not accessible if you've made further modifications. Remove the custom ad blocker rule(s) and the page will load as expected.