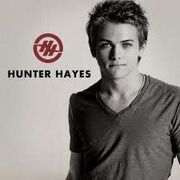 Hunter Hayes is a Country Music Artist. Some of his hits include "Storm Warning", "Wanted", and "Somebody's Heartbreak." Hunter has a passion for music and that is what has motivated him since he was young. He has already won the CMA award for "New Artist of the Year."
Ad blocker interference detected!
Wikia is a free-to-use site that makes money from advertising. We have a modified experience for viewers using ad blockers

Wikia is not accessible if you've made further modifications. Remove the custom ad blocker rule(s) and the page will load as expected.