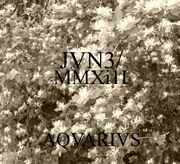 JVN3/MMXi1I
 is the sophomore extended play (EP) of Alternative and Ambient artist 
AQVARIVS
 that was released through Bandcamp on July 18, 2013. It is an account of what happened in his life in the month of June 2013. The instrument featured is piano.
Track Listing
Edit
(All songs were composed, produced, mixed, and recorded by Dakota James Belford)
"Months Go By" (03:08)
"Turmoil" (03:02)
"Recovery" (05:49)
(Total Time - 11:59)
Ad blocker interference detected!
Wikia is a free-to-use site that makes money from advertising. We have a modified experience for viewers using ad blockers

Wikia is not accessible if you've made further modifications. Remove the custom ad blocker rule(s) and the page will load as expected.