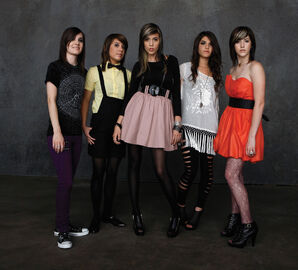 KSM was an American all-girl teen rock band from Los Angeles, California that was active from 2006 to 2010. The band consisted of lead singer Shelby Cobra (real last name Spalione), lead guitarist Shae Padilla, rhythm guitarist Katie Cecil, bassist Sophia Melon and drummer Kate Cabebe.
They gained popularity in summer 2009 when they covered the song, "I Want You to Want Me" by Cheap Trick. The song was used to promote the television series 10 Things I Hate About You on the ABC Family network.
Ad blocker interference detected!
Wikia is a free-to-use site that makes money from advertising. We have a modified experience for viewers using ad blockers

Wikia is not accessible if you've made further modifications. Remove the custom ad blocker rule(s) and the page will load as expected.