Kajmak i Katran is the third solo album by Serbian rapper Ajs Nigrutin.
Tracklist:
Edit
01. Uvodni Katran (0:00)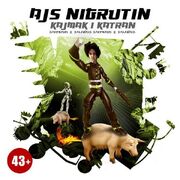 02. Papucar G (0:58)
03. Jagodice Sondice (3:40)
04. Zuluf (feat. Borsc) (6:48)
05. Osuseni Prokelj (9:53)
06. Prelaz Pola Leba i Salama (12:53)
07. Puftam Iz Mistolja (13:46)
08. Krave (feat. Crux) (17:00)
09. Letnji zur (Crazy summer mix) (feat. Timjah) (19:58)
10. Isporuka Mazuta (22:06)
11. Sexy medeni (feat. Blind Buisness & Wikluh Sky) (25:33)
Ad blocker interference detected!
Wikia is a free-to-use site that makes money from advertising. We have a modified experience for viewers using ad blockers

Wikia is not accessible if you've made further modifications. Remove the custom ad blocker rule(s) and the page will load as expected.