"Kidz Bop", is the series for childrens to sing. Kidz Bop were belong to Razor & Tie. Cliff Chenfeld and Craig Balsam created the Kidz Bop series. We hope you and your family will enjoy the Kidz Bop collection.
The Kidz Bop Kids change from time to time, because the kids grow older. The current stars are Ashlynn, Bredia, Matt, Jayna and Grant.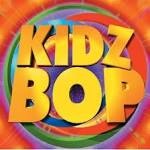 All Star
Oops...I Did It Again
Steal My Sunshine
Bye Bye Bye
My Love Is Your Love
Slide
Livin' La Vida Loca
Kiss Me
Fly
Bring It All To Me
Ad blocker interference detected!
Wikia is a free-to-use site that makes money from advertising. We have a modified experience for viewers using ad blockers

Wikia is not accessible if you've made further modifications. Remove the custom ad blocker rule(s) and the page will load as expected.