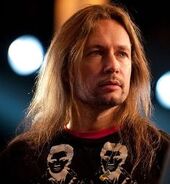 Kotipelto is a Finnish melodic power metal self-named band by Timo Kotipelto created during a hiatus in activity for power metal band Stratovarius. Kotipelto has been commercially well-received in their native Finland, with a Top 10 single "Beginning" from his first release Waiting for the Dawn, and lyrics often centrating on ancient Egyptian themes.
Discography
Edit
Beginning (2002)
Reasons (2004)
Take Me Away (2004)
Sleep Well (2006)
Ad blocker interference detected!
Wikia is a free-to-use site that makes money from advertising. We have a modified experience for viewers using ad blockers

Wikia is not accessible if you've made further modifications. Remove the custom ad blocker rule(s) and the page will load as expected.