Love / Hate
Single by b-Rabbit
Released
December 24, 2013
Recorded
October 2013
Genre
Hip-hop
Language
English
Label
BranFlakes
Producer
Loszt Beatz
b-Rabbit Singles chronology
"Love / Hate" is a song by American hip-hop artist b-Rabbit which was released as the fifth and final single off of Trials & Tribulations on December 24, 2013. The song was written in only 15 minutes and only one week after his break-up with long time girlfriend Angelica. Lyrically, the song details b-Rabbit's conflicting emotions as he thinks about his ex-girlfriend and attempts to figure out whether or not he still loves her.
Background
Edit
In May 2013, b-Rabbit's girlfriend of two years suddenly ended their relationship following a heated discussion between the couple and a mutual friend. The situation sent b-Rabbit into an emotional downspiral as he battled depression and anger at the same time. Only one week after breaking up, b-Rabbit left his choir class — a class shared with his now ex-girlfriend — to sit in the school library which gave him the opportunity to write this song. Only taking 15 minutes, the song expressed b-Rabbit's confused emotions and also revealed his slight stalker-esque behavior as he admitted to checking his ex's Facebook profile on a fake account. A preview of the lyrics were posted on b-Rabbit's personal Instagram on May 22.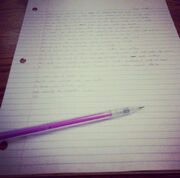 Music Video
Edit
The official music video teaser was uploaded to YouTube on December 13, 2013 with the full music video being added at midnight on December 24, 2013. It depicts a man and a woman reminiscing about a relationship they once shared but with different viewpoints: the woman represents love while the man represents hatred.
Track List
Edit
No.
Title
Writer(s)
Producer(s)
Length
1.
"Love / Hate" 

(Single Version)

Brandon Waugh
Loszt Beatz
4:39
Release history
Edit
Ad blocker interference detected!
Wikia is a free-to-use site that makes money from advertising. We have a modified experience for viewers using ad blockers

Wikia is not accessible if you've made further modifications. Remove the custom ad blocker rule(s) and the page will load as expected.