Teenage dreams and ambitions distracted Milos Bobic in the musical waters, so began his career in 1995 in a band called Nite Lite, and then founded the hardcore rap band called Up Against The Wall. Circumstances of war and loss of interest led to the dissolution of the group in 1999.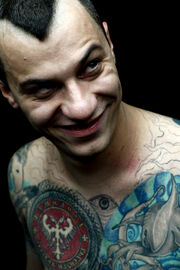 After three years, Milos returns to the music, but this time I'm totally.Milos returns to the music, but this time I'm totally.is seeking the truth, knocking down taboos and penetrate to the core of Belgrade concrete. This is how Monogamija, and the first album Bahata family, who produced MC Euffrat passed is more than remarkable. On this album rhymes with it divided the famous rap group Prti BeeGee, the legendary MC Moskri, Bad B, THC, ex Maraya Bitcharke the 
grass. At the beginning of 2009 comes the second album Hunter whores, signed by producer Nenad Aleksic Sha-e, and MC Monogamy is still more honest stories curled through rhyme raised a hue and cry. Guests on the album are other famous musicians Sha, Mikri Maus, skinner, Horsman Coyote, Hartmann, Vox, and rising young rapper MC Paw 
times. The asphalt jungle song he did with the band rhythm disorder, Monogamy is back to the roots, explaining perfect compatibility hardcore and rap-a. Reska street lirika, rebellion against korozirane everyday, patriotistički drives and stories from the perspective of a man walking on the margin, giving the songs Monogamija bitter Serbian reality ...
Ad blocker interference detected!
Wikia is a free-to-use site that makes money from advertising. We have a modified experience for viewers using ad blockers

Wikia is not accessible if you've made further modifications. Remove the custom ad blocker rule(s) and the page will load as expected.