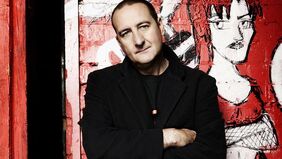 Founded:
Headquarters:
Website Link(s):
Band Members
Edit
Includes Members of
Edit
Band Biography
Edit
Discography
Edit
or
[[A-Side:Artist|A-Side ]] / [[B-side 1:Artist|B-side 1]] / [[B-side 2:Artist|B-side 2]]
Appears On
Edit
Compilations
Edit
[[Compilation Title:Label|Compilation Title]]
Soundtracks
Edit
[[Soundtrack Title:Soundtrack|Soundtrack TItle]]
Guitarist with The Fall in the late 1970s early 1980s. After leaving The Fall formed Marc Riley With The Creepers. Was part of BBC Radio One's DJ double act Mark and Lard (with Mark Radcliff). Currently a DJ on BBC Radio 6
Ad blocker interference detected!
Wikia is a free-to-use site that makes money from advertising. We have a modified experience for viewers using ad blockers

Wikia is not accessible if you've made further modifications. Remove the custom ad blocker rule(s) and the page will load as expected.