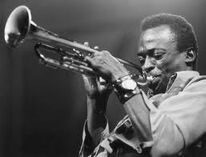 Full Name:
Miles Dewey Davis III
Born: May 26, 1926 – September 28, 1991
Home: Alton, IL
Website Link(s): Official Site
Instrument(s)
Edit
Member of
Edit
Has Notably Worked with
Edit
Musician Biography
Edit
One of the most famous and influential jazz musicians, even to non-jazz fans, Miles Davis was at the forefront of many genres of jazz, even some aspects of free jazz, though he didn't like that particular genre. He would still get rather experimental from time to time, though, and worked with many Avant-Garde musicians.
Discography
Edit
Appears On
Edit
Compilations
Edit
Soundtracks
Edit
Radio Shows
Edit
Further Reading
Edit
Ad blocker interference detected!
Wikia is a free-to-use site that makes money from advertising. We have a modified experience for viewers using ad blockers

Wikia is not accessible if you've made further modifications. Remove the custom ad blocker rule(s) and the page will load as expected.