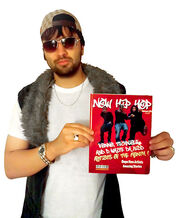 This page may need to be cleaned up to reach a higher standard of quality.

This may include editing to correct spelling and grammar, and rewriting sections to ensure they are clear and concise.
Moe Rock is the founder and head publisher of Now Hip Hop magazine. He has Produced for Grammy nominated and platnum artists, his songs have been downloaded over six million times internationailly.
He has Hollywood feature film credits as a consultant. (SEE IMDB: http://www.imdb.com/name/nm6803876/ )
Ad blocker interference detected!
Wikia is a free-to-use site that makes money from advertising. We have a modified experience for viewers using ad blockers

Wikia is not accessible if you've made further modifications. Remove the custom ad blocker rule(s) and the page will load as expected.