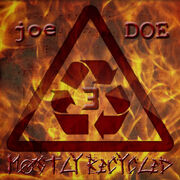 Mostly Recycled Vol. 1
is an album by
joe DOE
. A limited number of advance copies was made available to fans. The second half of this version contains the recordings that were supposed to be demos for a new
Triple Vision
album as bonus material. These tracks feature guest appearances from Kwik the Misfit, Hoosier Boy, Christel South, Black-Jack and Rocky Blanco.
Track listing
Edit
Fight
Lyrical Labyrinth
Underground Famous
Undying
Pray 2.0
Epic Awesomeness 3.0
Bleed for the Night
Emergency
Powerful Music (extended version)
Belly of the Beast
We Go Insane
Survival of the Fittest
Reflections
Systems
We Be Getting It 2.0
It's a Good Day
I Cannot Fit In
For the rEvolution
Further Reading
Edit
Ad blocker interference detected!
Wikia is a free-to-use site that makes money from advertising. We have a modified experience for viewers using ad blockers

Wikia is not accessible if you've made further modifications. Remove the custom ad blocker rule(s) and the page will load as expected.