Add introductory line about musician here ...
Biography
Edit
 Musse Mus pronouced (Moosey Moose) was born in Philadelphia in 1977 and was always surrounded by a musical bunch of people. He migrated to Westside Baltimore Sandtown in the 1980's where he grew up in the urban way of life surviving and learning to make ends meet. Despite the crucial surroundings Mus managed to complete high school, go to college and dwell in many music centered atmospheres.

From spiting in ciphers, playing the piano, breakdancing to performing in talent shows Mus developed into what he is today which is a serious entrepreneur/producer/composer and engineer while keeping true to the hip hop form. Previously going by the name of Anagrammatikal (later Skripture) he graced the many stages of open mics in the metropolitan such as 5 Seasons, Now Child Stages, Club 210 he hit the audience with a plethora of quick wordplay rhymes which had them speechless. Frustrated by the bogus support and a thrill for production he started to compose music just on a PC and Fisher Price beat recorder in 2000. Since then he has self taught himself and mastered all sorts of software and hardware such as the MPC, bass guitar, keyboards, clarinet, Triton, Roland, Korg, M-Audio, Pro Tools, Digital Performer, to Nuendo in which he uses today to create some of the most unique compositions to be heard.
Still keeping true to making melodic arrangements none of his music is bubblegum or synthetic. While most producers today wants to get in the business to make a quick buck sacrificing sound for the dollar, Mus keeps it authentic while composing some of the most supernatural beat arrangements while keeping the listeners in the zone. Beatmaking/composing is a SERIOUS business so if you don't now your history or have a true ear for music then its time to change careers!
Now he currently scores music for films, produces for independent/major artists, hosts mixtapes and CD compilations, promote for musical artists and co-manage a record label with sister and jazz-soulstress Zakia Sahar.
[[File:Example.jpg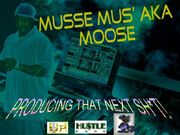 ]]
Discography
Edit
"BIG STATUS-GREENDAY"
"PORCHE 9 11- CHANGEN LANEZ"--produced a track
"BOSSLADY ON THE GRIND MIXTAPE"
"REP UR STATE VOLUME 1"
"BALTIMORE'S MOST WANTED MIXTAPE"
"MOSSBURG- THE PUNCHLINE CHAMPION"
"ZAKIA SAHAR- TWILIGHT CONFESSIONS".
Further Reading
Edit
(links to websites, label biographies, fansites, books, periodicals or any additional information on the artist)
Ad blocker interference detected!
Wikia is a free-to-use site that makes money from advertising. We have a modified experience for viewers using ad blockers

Wikia is not accessible if you've made further modifications. Remove the custom ad blocker rule(s) and the page will load as expected.