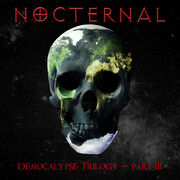 Nocternal is an album released by Sykophunk Productions on April 13, 2012 (Friday the 13th), accompanied by the subtitle Democalypse Trilogy Part III. The album is not officially registered by any artist, though the credits list:
joe DOE (persona) - vocals, lyrics & images
Joseph VanBuren (self) - music, production & stories
Dostah Shilailee (shadow) - beats, fx & prophecies
The title Nocternal is a portmanteau (combining the words "nocturnal" and "eternal"). As the sequel to 2010's Democalypse (also a portmanteau, combining the words "democracy" and "apocalypse"), the album "paints a very dark picture – a future world of destruction and death caused by mankind's failure to correct its own mistakes." This imagery is achieved through "eerily atmospheric and disturbingly gritty tracks of urban gothic soundscapes." Only half of the tracks contain vocals, and often sparingly. The mood and message of the album is mostly reliant on its music and ambience.
As the final part of a trilogy, Nocternal provides continuity by having a version of the song "Lunar Maximum" as the opening track, which was the closing track on Democalypse.
Part I of the trilogy, Happocrisy (a portmanteau of the words "happiness" and "hypocrisy") is scheduled for a spring 2013 release.
Track Listing
Edit
Ad blocker interference detected!
Wikia is a free-to-use site that makes money from advertising. We have a modified experience for viewers using ad blockers

Wikia is not accessible if you've made further modifications. Remove the custom ad blocker rule(s) and the page will load as expected.