Artist: Linkin Park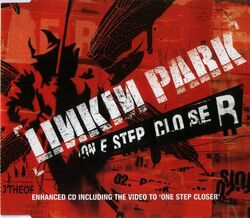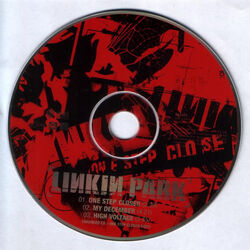 Date Released: February 13, 2001 (2/13/01)
Label: Warner Brothers Records
Produced By: Don Gilmore
Tracklisting:
One Step Closer
Bonus CD-ROM Music Video: "One Step Closer"
Review by Alez:
This is a single containing Linkin Park's hit song "One Step Closer" on their debut album "Hybrid Theory". It also has on it some of Hybrid Theory's B-Sides named "My December" and "High Voltage"
Further reading
Edit
(links to websites, additional reviews, fansites, books, periodicals or any additional information on the album)
Hubble Brothers Remix One Step Closer
Edit
Artist: Linkin Park
Date Released: 2002
Label: Machine Shop Recordings / Warner Bros. Records
Produced By: Mike Shinoda
Tracklisting:
Further reading
Edit
Ad blocker interference detected!
Wikia is a free-to-use site that makes money from advertising. We have a modified experience for viewers using ad blockers

Wikia is not accessible if you've made further modifications. Remove the custom ad blocker rule(s) and the page will load as expected.