This page has been tagged for and is currently pending deletion.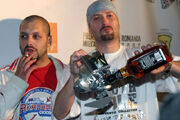 Paraziţii is the Romanian hip-hop trio that came from Bucharest. They
started work on their singles from 1994. The trio consists Cheloo
Ombladon and FreakaDaDisk. In Romanian the word Paraziţii means "The Parasites" in Romanian Language.
Ad blocker interference detected!
Wikia is a free-to-use site that makes money from advertising. We have a modified experience for viewers using ad blockers

Wikia is not accessible if you've made further modifications. Remove the custom ad blocker rule(s) and the page will load as expected.