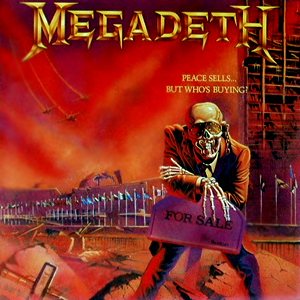 Artist: Megadeth
Release date: July 20th, 1986
Label: Capitol Records
Songs:
Wake Up Dead 03:41
The Conjuring 05:04
Peace Sells 04:04
Devil's Island 05:06
Good Mourning / Black Friday 06:42
Bad Omen 04:05
I Ain't Superstitious (Willie Dixon cover) 02:46
My Last Words 04:48
Additional notes:
Produced by Dave Mustaine and Randy Burns.
Mixed by Paul Lani.
Engineered by Casey McMackin and Randy Burns.
Recorded at The Music Grinder, L.A., CA.
Mixed at Can-Am Recorders, Tarzana, CA.
Additional recording at Track Records, Rock Steady Studios, L.A., CA and at Maddog Studios, Venice, CA, February 15, 1986 - March 20, 1986.
Album design and cover illustration: Edward J. Repka.
Cover concept: Andy Somers and Dave Mustaine.
Ad blocker interference detected!
Wikia is a free-to-use site that makes money from advertising. We have a modified experience for viewers using ad blockers

Wikia is not accessible if you've made further modifications. Remove the custom ad blocker rule(s) and the page will load as expected.