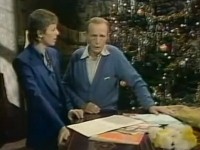 Peace on Earth / Little Drummer Boy was recorded for Crosby's 1977 television special, Bing Crosby's Merrie Olde Christmas. Crosby died just over a month after recording the special. Crosby performed "Little Drummer Boy," while Bowie sang the new tune "Peace on Earth," which they reportedly performed after less than an hour of rehearsal.
Ad blocker interference detected!
Wikia is a free-to-use site that makes money from advertising. We have a modified experience for viewers using ad blockers

Wikia is not accessible if you've made further modifications. Remove the custom ad blocker rule(s) and the page will load as expected.