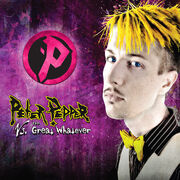 Peter Pepper is an American singer, songwriter, musician and producer. His band of ultra-animated, adventure-punks also go by the name Peter Pepper. Peter Pepper (band) rose from the ashes of singer/songwriter Peter Pepper's electro-punk project 
Retard-O-Bot; who you've probably seen running with the likes of Combichrist, Creature Feature, Mindless Self Indulgence, and Foxy Shazam.  Retard-O-Bot is regarded as a major influence to many electro/scene/punk artist and bands today.
Peter's talent as a visual artist, musician, performer and his active passion towards his fans have easily made him an artist of note.  Peter has created/directed artwork for Retard-O-Bot, Screaming Mechanical Brain and Just Say Yes among many others.  
Now with his band of action-packed adventure pals, Peter Pepper is giving voice to the lost, anxious, and overwhelmed generations of people who have become victim of the great whatever.
Ad blocker interference detected!
Wikia is a free-to-use site that makes money from advertising. We have a modified experience for viewers using ad blockers

Wikia is not accessible if you've made further modifications. Remove the custom ad blocker rule(s) and the page will load as expected.